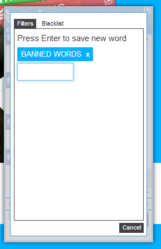 San Diego, CA (PRWEB) May 26, 2013
Politics is still considered as one of the hottest topics in the blogging community nowadays. Political bloggers tend to discuss the issues within their home countries, along with various government agendas. To help political bloggers process web information, the Chatwing.com recently launched a chatroom tool meant for the political niche. The tool allows varied social media interaction, better connectivity rate, and advanced customization options for meticulous bloggers.
Political discussions are long, based on the observation of Chatwing's developers. Political bloggers and subscribers can benefit from the Chatwing chat app because of its perpetual message history. Now, bloggers can review important political information and discuss them over and over again. These repeatable discussions can lead to better website activity in the long run. Through social media integration, chat software visitors can log in with their Facebook, Twitter, Google, and Yahoo accounts. This ensures better discussions extending to the social media premise.
Chatwing's connectivity doesn't stop at social media integration. The developers have recently added a chat network option—a feature that allows users to link their chatrooms together. These chatrooms will be categorized under one niche or network. At any time, these networks can be visited and users can leave their important remarks and feedbacks. With linked chatrooms, more discussions can start.
The Chatwing chatbox is always undergoing dynamic changes for the better. The goal of the Chatwing's developers is to help many users gain communication leverage in over hundreds of possible niches. Chatwing will always have update content in its Facebook page and blog series to keep users properly informed.
About Chatwing.com
Chatwing.com specializes in the new field of website chat. Over years, the Chatwing team has introduced live chat widget for hundreds and thousands of blogs. The Chatwing application bridges people from many parts of the world, creating global synergy through the Internet. The shout box can be installed in just seconds, and it can be used for varying purposes such as leisure and Internet marketing. It also allows a user to customize the size, color, and name of the widget.