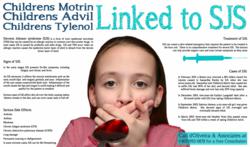 (PRWEB) May 24, 2013
According to the National Institutes of Health, Stevens Johnson Syndrome (SJS) is a form of toxic epidermal necrolysis (TEN) that affects the skin and mucous membranes. SJS occurs most commonly in children and young adults under the age of 30 (i). In the early stages SJS presents flu-like symptoms, including fatigue, sore throat, and fever. As SJS advances, it affects the mucous membranes such as the eyes, mouth (lips and tongue), genitals, and anus. Inflammation of the eye causes conjunctivitis (pink eye). Inflammation of the mouth causes the lips and tongue to swell making it difficult and painful for the patient to swallow. Serious cases of SJS affect skin all over the body causing rashes, blisters, breaks in the skin, and can even cause nails to fall off (ii).
There have been several serious cases of SJS among children that have been reported in the news. In January 2005, The Seattle Times reported on two cases of SJS involving Heather Rose Kiss and Kaitlyn Langstaff (iii). The article reported that in March 2003 three-year-old Heather Rose Kiss passed away from SJS and TEN within a week of taking Children's Advil. In December 2003, nine-year-old Kaitlyn Langstaff died after a 20-month battle with SJS. According to the article, she had taken Children's Motrin. In February 2013, CBS News reported that a Boston jury returned a $63 million award for injuries caused to Samantha Reckis by SJS when she was seven-years-old. The article reported that Samantha took Children's Motrin which caused her to suffer SJS, lose 90% of her skin, and become blind. She also suffered brain damage and now has only 20% lung capacity (iv). While SJS is rare, its symptoms are very serious. However, the FDA has not yet required any children's medicines to include a warning about SJS (v).
The SJS infographic describes the progression of the reaction and lists possible conditions that can result from SJS. These conditions include asthma, blindness, chronic obstructive pulmonary disease, lung damage, and permanent scarring or disfigurement. Learn more by visiting the Children's Advil, Children's Motrin, or Children's Tylenol webpage and viewing the infographic: Children's SJS Infographic.
If you believe that your child had a severe allergic reaction to medicine, then you may have a potential SJS claim. You should find a knowledgeable personal injury lawyer because you may only have one chance at obtaining justice. A dangerous drug lawyer familiar with medicines linked to this serious disorder may be able provide you with important information. d'Oliveira & Associates, P.C., is working with some of the more experienced SJS lawyers in the country handling these cases. Contact our law offices at 1-800-992-6878 or fill out a contact form for a free legal consultation.
Sources:
(i) National Institutes of Health. rarediseases.info.nih.gov/gard/7700/stevensjohnson-syndrome/resources/1
(ii) Mayo Clinic, April 9, 2011. mayoclinic.com/health/stevens-johnson-syndrome/DS00940
(iii) The SeattleTimes, January 4, 2005. seattletimes.com/html/health/2002139686_ibuprofen04.html
(iv) CBS News, February 14, 2013. cbsnews.com/8301-204_162-57569388/jury-awards-$63m-to-samantha-reckis-girl-who-lost-skin-after-taking-motrin/
(v) FDA Letter, January 26, 2005. fda.gov/ohrms/dockets/dockets/04n0559/04n-0559-c000003-01-vol1.pdf