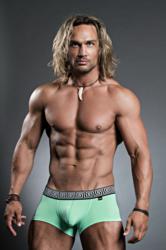 Men can be very bashful when it comes to their underwear.
(PRWEB UK) 27 May 2013
The New York Times men's underwear story hit the headlines this week
(http://www.nytimes.com/2013/05/23/fashion/changes-in-the-marketing-of-mens-underwear.html?adxnnl=1&pagewanted=all&adxnnlx=1369397302-FMUg+puWqwfhofLQzboeTw), provoking a mixed response. Some commentators say yes, ordinary blokes are put off by shots of muscular male models in nothing but their undies. Others insist that aspirational imagery is the norm in fashion and men should be looking at the product, not the six pack.
Deadgoodundies.com has been selling a huge range of men's underwear online since 2007 - and the website has always used models to present every collection.
Founder Adam Davies admits finding the right models can be tricky: "The New York Times piece talks about brands moving away from the classic hunk and focusing on their crotch. New models are supposed to be a bit hairier, and not just on their head, a bit less polished, shot in more of a lifestyle context than the clever lighting of a studio. Other writers have also suggested men would like to see older, wider and tattooed models…"
There are several crucial factors for a business like Deadgoodundies.com in choosing their models. Physical shape and attributes are important, so is a good - and different - 'look'.
"When we're looking at models we want to show that our briefs, thongs, boxers and shorts will fit real men. Our models are good looking but not unattainable gods," he said. "You also have to bear in the mind that collections are shot long before we get seasonal stock, using 'samples' which tend to fit a 32-inch waist, so your choice of model is limited."
Adam's partner, Jane Garner, also has a view on the 'scary models' questions.
"Telling someone what we do at a dinner party produces exactly the mix of reactions the New York Times has highlighted. Women are totally unfazed by seeing men in nothing but their underpants. In fact they're delighted and thoroughly amused by Deadgoodundies.com," she explains. "They immediately want the men in the room to get shopping."
Some men are pleased to know there is somewhere they can find lots of choice - far more than any retail stores. They note the website address and visit later.
"But some men are wary and flustered by the topic of conversation. Men can be very bashful when it comes to their underwear. Yet if you showed them a photograph of a beautiful female model in sexy lingerie, there wouldn't be a trace of a blush?
Some men think that stylish designer underwear is only bought by gay guys - and Jane has an answer for that. "Gay or straight, a man who cares about how he looks will care about what he wears. That should start with underwear, which often let's men down.
"Every man should enjoy colours, gorgeous fabrics and styling that makes the most of what nature gave them. That might be a simple pair of briefs or something far more exotic. But if you've not tried it, don't knock it - men's fashion underwear is a million miles ahead of what it was even five years ago. And buying online means you can push the boat out, and only you and your nearest and dearest will know!"
Company Information
Deadgoodundies is an online only retailer stocking the best in designer men's underwear and swimwear from all over the world including: (in alphabetical order) Big Boys, Body Art, Bruno Banani, Bum-Chums, Clever Moda, Doreanse, Ergowear, Gigo, Gregg Homme, HOM, James Tudor, Jockey, Joe Snyder, MaleBasics, MANstore, Mey Bodywear, Mundo Unico, Nils Bohner, Obviously For Men, Olaf Benz, Pikante, PUMA, Skiny, Sloggi, Solar TanThru and Zoggs. DGU stocks everything from thongs and strings to briefs, hipsters and shorts as well as selected loungewear, socks, T-shirts and more from their best-selling brands.
DGU are incredibly media friendly and always have high res images on hand for fashion pages and samples for photo shoots as well as expert comment and market insight from partners Adam and Jane.
For more information, contact DGU PR Jane on 01743 271615 (international +44 1743 271615) or email pr[at]deadgoodundies[dot]com.