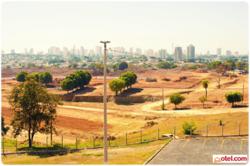 The cheap Cuiabá hotels, sights and restaurants are within walking distance of the city center, this is a compact city. Because the city is so small, it is recommended to book in advance, the hotels can be really crowded during the high season
(PRWEB) May 26, 2013
The capital of Mato Grosso state, Cuiabá is a modern town attracting thousands of tourists every year. People who are interested in western culture and gears such as boots and saddles prefer to visit here mostly. There are many things to do and see in the city. Shopping malls, restaurants and night clubs guarantee the entertainment for travelers.
People who adore nature can take a wildlife tour out along the Transpantaneira, there said to be animals to see. People who are interested in the history and culture of Cuiabá, visit Basilica do Senhor Bom Jesus de Cuiabá. It is a stylish modern cathedral with some Art Deco features and great stained glass. Palácio de Instrução is also said to be a must-see in the city, being home to Cuiabá's history and natural history museums. Praça Popular means popular square; it is the most known square in the most popular neighbourhoods. It features many restaurants and bars around it.
"The cheap Cuiabá hotels, sights and restaurants are within walking distance of the town center; this is a compact city. Because the city is so compact, it is recommended to book accommodation in advance, the hotels can be really crowded during the high season," says Metin Altun, CEO of Otel.com.
He continues; "This winter we worked too hard to find the best hotels in this small town. We wanted to improve tourism here and also to improve our prestige in the tourism sector. We have proven that we could offer good rates at hotels in Cuiabá. We are happy to announce great rates at these hotels. Every traveler to Brazil should check our website for the beautiful hotels."
One of the Cuiabá hotels Metin Altun mentions is the Mato Grosso Homat Hotel. It is just a few blocks away from the Praça da República. It can be an option for budget traveling. The hotel features comfortable rooms, daily buffet breakfast and a central location in the city.
About Otel.com
Providing service for both B2B and B2C clients, Otel.com is a branch of Met Global, an international tourism company. The company's monthly deals and offers can be seen on their multi-lingual website here; http://www.otel.com/.