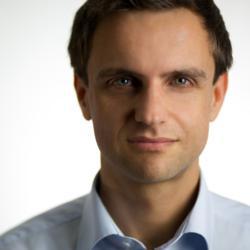 Sorry, I don't know where the cornflakes are.
London, United Kingdom (PRWEB UK) 28 May 2013
One week of talks, workshops, and debates on the future in technologies and business turned Shoreditch in an extraordinary digital playground. "An ambitious, young, and vital community presented their ideas for a better future with the latest technologies and innovation." summarized Robert M Wenzel, keynote speaker at Digital Shoreditch Tomorrow's World and Director of London Global Laboratories, known as expert for future technologies and tomorrow's business.
Wenzel presented in one of the most futuristic talks at Digital Shoreditch his vision of the key technologies for the next century. "All trends show clearly that robotics combined with clever artificial intelligence solutions will revolutionise today's economy and society. Robots will be everywhere and for everyone." said Robert M Wenzel.
On today's market are already a lot of impressive robotic solutions available. "However, robots and artificial intelligence are not ready for the broad market, yet." stated the expert. "The key technology for robots won't be mechanics systems or a superb intelligence algorithm. It will be an interactive communication system between humans and robots, an intelligent Human-Robot-Interaction."
With more than 15 years of experience in robotics and several world leading products based on his concepts and built under his guidance, Wenzel pointed out: "The main reason for the success of all my products had always been a clever human-machine-interaction." In his talk he underpinned his thesis with vivid examples like the 'cornflake question'.
"Imagine a robot shall bring someone cornflakes. To do so, the robot moves through the flat and identifies many different objects. One of them could be the cornflakes but the robot is just to 70% sure of it. Now, it could download pictures of different cornflakes brands from the internet and try to find a match to the identified object. Once it found a match it can finish its task otherwise it has to continue its search for cornflakes. It is very obvious that this approach takes a lot of time and a person would have got the cornflakes faster. However, the robot could shorten this process by simply asking 'Sorry, I don't know where the cornflakes are. Can you please help me to find them?'" explains Robert M Wenzel.
Wenzel cites numerous of tests, which have shown that people react very friendly on kind robots even if they have to help them performing their tasks and most important they see enrichment for their everyday life through to the help of robotic systems.
In an interview with TechCityInsider, Robert M Wenzel said "In the next couple of years the technology will become affordable enough to enter the broad market. It's a great business and the best time to invest in it is now. London Global Laboratories, with its passion for robotics and artificial intelligence solutions, had set itself the goal to help its clients improving their technology and business, so that their investment in a better future will pay off."
About London Global Laboratories
Founded in 2012 by Robert M Wenzel to continue a series of strong achievements, ranging from a world leading medical laboratory automation system, being co-founder & CEO of the award-winning company denro AG to advise at the intersection between business and technology. Robert M Wenzel's passion and singular focus lies on future technologies and tomorrow's business. He combines leading business strategies and a comprehensive and proven methodology to shape the future and commercialise R&D successfully. London Global Laboratories offers consulting and seminars, and provides its network of high qualified specialist to help its clients creating world leading products and services. For more information please tweet to @RobWenzel, send an email Robert(at)LondonGlobalLaboratories(dot)com, and visit the webpage http://www.LondonGlobalLaboratories.com.