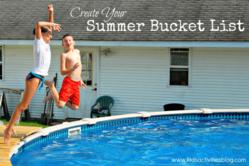 It's time to make a summer bucket list and call a family meeting.
Dallas, Texas (PRWEB) May 24, 2013
Summer is around the corner. Create a summer bucket list with Camp Mom activities to plan cool and exciting stuff. Get the whole family involved to plan for fun summer activities that do not explode the family budget.
With three whole months of summer time waiting around the corner, set the kids' expectations early about what they can expect during the summer months. If week long camps are not an option, set time for preliminary dreaming about what the "best summer ever" would look like for each of the kids.
Call a meeting in May for each family member to come up with at least 5 fun things they want to do during the summer. As a parent, be prepared to have researched the internet to contribute local fun ideas or activities. Brainstorm together, narrow down the list, and finally put them on a calendar.
As an alternative, consider ideas published in the Camp Mom summer activities pack. Over 86 pages full of downloadable summer excitement, links, printables, and tips including 45 full activities have been compiled by 20 Moms happy to share their summer fun.
For detailed instructions and to get additional summer fun, check out Kids Activities Blog. Come get inspired to create a summer bucket list with the kids today.
About Kids Activities Blog
Kids Activities Blog is a website created by two moms (who collectively have 9 children), Rachel Miller and Holly Homer from June Cleaver Nirvana. It is their daily goal to inspire parents and teachers to play with kids. This interactive website publishes simple things to do with kids twice a day. Kids Activities Blog is a great tool for moms and teachers to find kid-friendly activities that create memories and sneak learning into the fun.