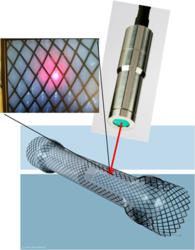 "The OptiGauge SLS offers customers a new cost-effective option for coating thickness measurement - on wire stents and any other material", says Steve Kelly, VP Sales
Rochester, New York (PRWEB) May 28, 2013
Lumetrics®, Inc., the leading manufacturer of measurement technology for the medical and ophthalmic industries has developed several new products utilizing their OptiGauge™ technology. With their extensive optical design capabilities, Lumetrics® was able to add three new products- the OptiGauge SLS™, the OptiGauge EMS™, and the OptiGauge MLS™ to its measurement system family.
The OptiGauge SLS™- offers the basic functionality of the OptiGauge™ yet is tailored to meet the requirements of customers that do not necessarily need all the features of the standard system. The system displays a single layer thickness measurement while still providing the complete graphical display so that the operator can correctly measure the single layer of interest. The OptiGauge SLS™ offers our customers a new economical price point to enjoy the benefits of the OptiGauge™.
The OptiGauge EMS™ is tailored to those customers that require a measurement system for thicker materials. For thick glass up to 30mm or for medical balloons that may have diameters as large as 50mm, the OptiGauge EMS™ provides them the platform to make all their measurements. The OptiGauge EMS™ has the same functionality as the standard OptiGauge MLS™ but with a larger stretch capability, and slower acquisition speeds.
The OptiGauge MLS™ has the same precision and accuracy as our traditional OptiGauge™ but runs on the new Windows 7 platform and a low profile controller. The OptiGauge MLS™ still provides 50-200 samples per second, of any translucent material between 12 microns and 15mm thick, at an accuracy of 0.1 micron.
Lumetrics has seen continuous growth in recent years especially in the medical and ophthalmics industry. The new OptiGauge™ products support those industries but also open a new market for Lumetrics products.
About Lumetrics
For more than a decade, Lumetrics, Inc. has been providing accurate precision measurement solutions to the medical, optics and scientific industries. As a top measurement solutions company, Lumetrics is known worldwide for its proven non-contact measurement system, OptiGauge™, and its CLAS-2D™ Shack-Hartmann wavefront technology. To find out what Lumetrics®, Inc. can do for you, visit http://www.Lumetrics.com.*