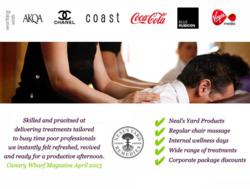 (PRWEB UK) 26 May 2013
One of the UK's premier mobile massage services, London's Return to Glory, has launched a brand new video which highlights 5 things that businesses need to know about office massage.
There are a number of benefits to on site massages, and many companies throughout the capital are already taking advantage of mobile massaging services to promote the health and wellbeing of their employees; and in turn boost the success of the company.
The Return to Glory video treats viewers to 5 facts about office on site massage, that they may not have known. These 5 important points are listed below:
1. Expert Treatments Work
Office massage is proven to increase the energy and alertness of all staff who take part, but in addition to the physical effects of therapy, there are a number of residual mental benefits. Employees feel valued by their company, and show their appreciation through hard work, efficiency and loyalty. The office becomes a place that they want to be; and stay.
2. A Full Range of Services are Available
Return to Glory offers onsite massage, wellness days and treatments at client events. The company already works with more than 250 SME's throughout London, delivering more than 12,000 wellness treatments a year. These businesses can choose from more than 160 massage, beauty, styling and fitness services; all of which are carried out by trained professionals.
3. Companies Benefit Long Term
When it comes to professional office massage, it pays to think long term. Regular massage services decrease staff absenteeism and slow the revolving door of employees in, and employees out. Relaxed and happy workers remain with the company long term; and show increased motivation.
4. Treatments are Not Costly
It costs less to pay for a year of on-site massage treatments than it does to pay for an internal event.

Office Massage - 1 therapist 8 hours per week - £195
Wellness Day - 4 therapists 4 hours - £800
5. Treatments Really Do Work
Hands on treatments affect the mind in a very real way. Dopamine levels in the brain increase, mindsets are changed and moods are enhanced.
Join a glittering array of global companies that are already taking advantage of mobile massage therapy by Return to Glory. The list includes Virgin, Chanel, Coca-Cola, Tesco, Martini and much more.
For more information pay a visit to the official Return to Glory website today.