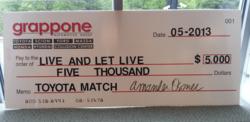 Bow, NH (PRWEB) May 24, 2013
The first round of Grappone Cares came to a close last week and Live and Let Live Farm, Inc. was the winner. On Friday, May 17, Grappone Automotive Group set up a live broadcast through their Google+ page to announce the top nominations and the winner. Grappone Automotive Group will be presenting the $5,000 check to Live and Let Live Farm Inc. on Wednesday, May 29.
Live and Let Live Farm Inc. of Chichester, NH is a no-kill shelter and is home to a wide variety of animals including horses, goats, dog and cats. The purpose of the farm is to rehabilitate and retrain abused and unwanted animals. They find new homes for the animals and when an animal is un-adoptable they provide lifetime care for that animal.
There were a total of 30 New Hampshire non-profits that entered the contest. The charities that did not win in the first round will automatically be entered into the second round. The contest is held on Grappone Automotive Group's Facebook page. Charities that are nominated must be 501(c)(3).
Nominations will be accepted from June 4 through June 12. Voting will be held from June 14 through June 27. Voters are allowed one vote per every 24-hour period. Any charities that have already won a Grappone Cares/Toyota Match Program contest are not eligible to win.
Grappone Automotive Group and the Toyota Match Program team up to make this contest possible. Grappone takes this opportunity to help broadcast and share all of the great charities in the community.
To learn more about Grappone Cares please email Danielle Roller at droller(at)grappone(dot)com. There will also be updates about the contest and the winner's on Grappone's blog, http://grapponenews.com/category/facebook-contests/
Founded in 1924, the Grappone Automotive Group is family owned and operated and is now in its fourth generation of ownership. This Ford, Mazda, Honda, Hyundai, Scion and Toyota dealer group is known for their expansive inventory and superior customer service. What sets the Grappone family a part is the way they value and appreciate the relationships they have formed with their communities. They believe strongly in giving back to their communities to ensure sustainable success for all. For more information please visit http://www.grappone.com.