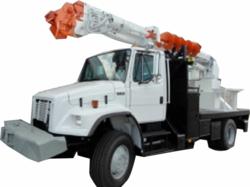 Colona, IL (PRWEB) May 24, 2013
I-80 Equipment, a leader in the used bucket truck industry, has been growing rapidly as a company in recent years. This growth has caused them to look at their company structure and prioritize the customer's needs. As the company grows, they have felt a need to increase their efforts to not only provide quality used bucket trucks but to provide quality customer service as well.
"The customer is our number one priority," says Ken Grawe, sales manager. "We address concerns head on and get resolution as soon as possible."
Grawe recently joined the I-80 Equipment team at the beginning of April 2013 as the sales manager, and has been spear heading this new drive. If customer issues arise they are brought to his attention, and are immediately followed up on. They know that word spreads fast and satisfied customers lead to referrals and growth.
"As we grow as a company, it is vital that our number one focus is the customer. Word of mouth is the most powerful tool. Making sure our customers are not only satisfied but delighted is our priority," says Josh Dimand, Operations and Marketing Director.
This effort to go above and beyond the call of duty to see to every customer need sets I-80 Equipment apart from other used bucket truck dealers. Their commitment to customer satisfaction drives their company. To experience this excellent service customers can contact I-80 Equipment at 1-888-949-3701 or visit their website http://www.i80equipment.com.
I-80 Equipment
120 Walnut Lane
Colona, IL 61241
(Toll-Free) 888.949.3701
(Local) 309.949.3701
(Fax) 309.949.3760
(Email) info(at)i80equipment(dot)com