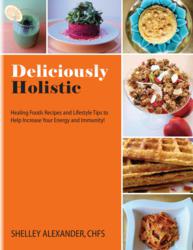 Los Angeles, CA (PRWEB) May 28, 2013
In her new book, "Deliciously Holistic," Chef Shelley Alexander provides healing foods recipes that satisfy the palate while nourishing, strengthening, energizing, and helping repair the body.
"As a holistic chef and certified healing foods specialist, I make getting healthy taste delicious with new recipes that are satisfying and full of flavor," says Alexander, who was raised eating a wide variety of fresh, organic and locally sourced food.
Her nutrient- rich and photogenic creations are frequently re-pinned on Pinterest.
"My easy-to-follow healing foods recipes take the stress and guesswork out of preparing vibrant, delicious meals that are completely nourishing and will make people feel healthier without taking away any of the enjoyment we feel when we sit down to eat. I also include helpful suggestions for ways busy people can tweak their lifestyle to boost their energy, strength and immunity."
With 154 mouth-watering recipes, "Deliciously Holistic" demonstrates that good nutrition never has to be at the sacrifice of great taste. The book includes full-color photographs, a comprehensive shopping guide, seasonal meal plans, and recommendations for useful online resources.
Also featured is information about how to use healing superfoods; tips to improve digestive health; and how to stock a holistic kitchen with the best proteins, whole grains, vegetables, fruits, nuts, seeds, natural sweeteners, healthy oils, and beverages.
A day of healing foods recipes might include: a creamy, wild-blueberry green smoothie for a quick breakfast on-the-go; a leisurely Sunday brunch of crisp buttermilk millet waffles, fresh strawberries, and comforting lemon ginger tulsi tea; a juicy Portobello mushroom and grilled onion burger with a hot bowl of sweet potato maple soup for lunch; and for dinner, succulent lemongrass ginger wild salmon, basil garlic spinach, brown rice pilaf, mixed baby greens salad, and cultured probiotic-rich vegetables.
"I hope that this cookbook, which was created to be fun, informative and easy to use, will inspire a new way of living for readers," says Alexander, one of only a few holistic chefs who are also certified healing foods specialists. "It's sure to delight anyone who wants to come to the table of deliciously healthy, thoughtful eating."
About Shelley Alexander, CHFS
Shelley Alexander has enjoyed a lifelong love of delicious, locally grown, seasonal foods. She received her formal chef's training at The Los Angeles Culinary Institute. Alexander is a certified healing foods specialist, holistic chef, blogger and owner of the holistic health company, A Harmony Healing, in Los Angeles.