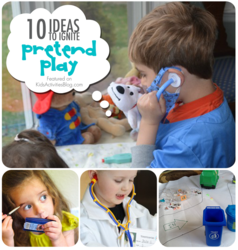 Give kids tools to succeed.
Dallas, TX (PRWEB) May 26, 2013
Pretend play is essential in early childhood development. Setting up areas in the house to ignite independent pretend play time will allow the child to use his or her imagination.
Set up a pretend animal hospital to encourage imagination and compassion. Give out pretend medicine, bandages, and let the kids take temperatures. Make the girls pretend make-up out of old containers and nail polish. Let her play beauty salon with her dolls and stuffed animals.
Another ingenious idea is teaching the kids about recycling by letting them sort out all kinds of materials, bins, tins, and cartons. Simply set up a recycling center in the kitchen to let the kids have a blast by helping to sort items found around the house.
Other ideas include setting up areas for the kids to play gardener outside, to play Mom for the day, and to play a classic pretend doctor game.
Pretend play can include all kinds of construction projects for kids as well. Consider letting the kids build a pretend world play area by building a DIY mini toy fence for their toy horses. The construction project will be a great way help kids give the tools they need to succeed.
For detailed instructions and to get additional fun ideas, check out Kids Activities Blog this week. Come get inspired to give kids the tools to succeed.
About Kids Activities Blog
Kids Activities Blog is a website created by two moms (who collectively have 9 children), Rachel Miller and Holly Homer from June Cleaver Nirvana. It is their daily goal to inspire parents and teachers to play with kids. This interactive website publishes simple things to do with kids twice a day. Kids Activities Blog is a great tool for moms and teachers to find kid-friendly activities that create memories and sneak learning into the fun.