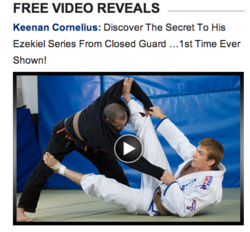 This is pretty much the only person in the BJJ community that EVERYONE wanted to come out with a DVD... it makes this big anticipation thing for a lot of us...
-Tim Reiss, White B
San Diego, California (PRWEB) May 25, 2013
The Keenan BJJ DVD seems to be the topic of choice from forums to locker rooms of Jiu Jitsu academies across the country - but is name wasn't always so big. In 2011, there was hardly a person in the BJJ community who would have recognized the name "Keenan Cornelius." In 2012, most of the active competitors knew the name, and by 2013, he's a household name in the Brazilian Jiu Jitsu world (visit the official site for Keenan's free video samples).
Keenan's present fame began to kick in at the rank of purple belt, where his unorthodox style seemed to flourish against grapplers of all sizes - with his most notable "Absolute" (no weight limit) match being his win against Rustam Chsiev at Grappler's Quest. Rustam has notable wins over BJJ black belt champions like Davi Ramos from team Atos, Roberto "Cyborg" Abreu, and others, and it was Keenan Cornelius who's inverted guard landed him a back take and a surprising victor over "The Russian Bear."
Now at the rank of brown belt, Keenan's track record is unmatched:

No Gi World Championships 2012: Double Gold (1st in Middle-Heavyweight, 1st in Absolute Division)
World Championships 2012: Double Gold (1st in Middle-Heavyweight, 1st in Absolute Division)
Pan American Championships 2012: Double Gold (1st in Middleweight, 1st in Absolute Division)
Pan American Championships 2013: Double Gold (1st in Middle-Heavyweight, 1st in Absolute Division)
And the list goes on and on.
As the whispers about Keenan's impending DVD began (sometime in early 2013), the buzz on the forums started up - and after the initial pre-release reviews came out (see the review / preview at Science of Skill), the conversation only heated up.
Tim Reiss, a BJJ three-stripe white belt from Rhode Island speaks for a lot of the BJJ community (at all belt levels) with a comment sent to me recently on Facebook: "This is pretty much the only person in the BJJ community that EVERYONE wanted to come out with a DVD... the fact that it's happening while he's still on a white-hot winning streak makes it a big anticipation things for a lot of us, competitors or not, it's worth seeing what the heck he's doing to be where he is now."
Preview of the Course Itself: "Breakthrough Jiu Jitsu Concepts"
Though Keenan is known for his "Unorthodox" game (and indeed the viewer will find unique techniques and strategies on the course itself), most techniques do no necessarily involve flexibility or special athleticism, and though young, Keenan's overall teaching style (step-by-step) seems to have grown along with his skills - which is not always the case with Jiu Jitsu resources.The course itself involves sections on:
Guard Passes: Includes grip breaking from nearly all top guard positions, which is possibly one of the most unique gems from the course. Other interesting elements include passing strategies against the inverted and spider guards.
Sweeps: The favorite section here seems to involve Keenan's in-depth omoplata game, but by no means is that the entirety of what the course includes. Though many techniques would work Gi and No Gi, the viewer should bear in mind that the course itself is filmed with the Gi, and some sweep variations require it.
Submissions: Keenan's style is notoriously submission-focused, and in this section it's refreshing to see that he holds nothing back. Includes his famous Ezekiel chokes, wrist locks, and more.
Attacks from the Back: Keenan's bow-and-arrow and back-mount Ezekiel choke included, along with a few other unorthodox variations.
And More.
With the pressure to compete being higher than ever for the young Keenan Cornelius, the mounting pressure now is: Will the BJJ populace take to the first DVD of the biggest young star in the sport since the Mendes Brothers. My assumption? A resoundingly "Yes." Viewers can make their own decision from reading interviewes or seeing the sample content that Keenan delivers from the main Keenan-Cornelius site.
-Daniel Faggella
The Science of Skill promotes the sport of Jiu Jitsu through quality articles in places like Jiu Jitsu Magazine, Jiu Jitsu Style, On the Mat, BJJToday and more. Their main site also features top BJJ athlete breakdowns and previews of upcoming Brazilian Jiu Jitsu DVDs, including this breakdown to Keenan Cornelius's first DVD release (preview videos here).