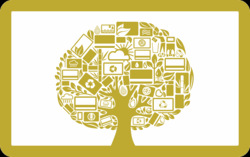 "We're dedicated to bringing great information and resources to merchants running gift card programs so they can make the best, most informed choices." -Matt Davies, Gift Card Network Director
Portland, OR (PRWEB) May 24, 2013
Gift Card Network members Arjowiggins, Neenah Paper, and Sustainable Cards, major competitors in sustainable card material, are combining forces to increase education and awareness of using forest materials as a sustainable gift card substrate.
The goal of the committee is to identify industry challenges and increase education and usage of these products within merchant gift card programs to support the reduction of carbon footprint and environmental impact while maintaining the consumer desirability of the gift card product.
These natural materials feature options for cards to be easily compostable, reusable, or recyclable, as well as drive lower carbon footprint for material and card production. New technology allows forest materials such as wood and paper to be made into gift cards without the environmental impact of a PVC plastic card. The committee will be driving awareness that these products are able to be utilized in similar or superior fashion to plastic cards for gift, loyalty, promotions, key cards, and other similar card stock.
The Gift Card Network will be coordinating the committee, inviting its members to participate in conversations and drive the discussion of challenges and solutions, and creating educational content and awareness. Members of the community that want to get updates or find out how to participate should fill out our survey at https://www.surveymonkey.com/s/B29BH5Y.
http:// http://www.thegiftcardnetwork.com
About Gift Card Network LLC:
The Gift Card Network is a community of gift card industry members that connect, collaborate and contribute through a highly specialized online platform, events, and group discussions. Members identify and create media and information around education, challenges, and potential solutions to help the industry move forward. Find out more at http://www.thegiftcardnetwork.com
About Arjowiggins:
ARJOWIGGINS is one of the world's great papermaking companies. Sustainable papermaking is an everyday event at ARJOWIGGINS and it has resulted in the creation of Sequoia, papers suitable for Gift Cards. Whether FSC certified, washable, or 60% Post Consumer recycled Sequoia has a solution for all. With its Global manufacturing and distribution footprint Arjo Wiggins can help you anywhere on the globe. Find out more at http://www.arjowiggins.com
About Neenah Paper:
Neenah Paper (NYSE: NP) is an innovative leader in the creation and manufacturing of premium, specialty and sustainable papers used for premium writing, text, cover, packaging, label, stored value cards and specialty needs. The Neenah signature portfolio includes market leading brands such as CLASSIC, ENVIRONMENT, CRANE, ASTROBRIGHTS and ROYAL SUNDANCE Papers. Find out more at http://www.neenahpaper.com
About Sustainable Cards:
Established in 2006, Sustainable Cards is the world's leading wooden card manufacturer, specializing in the most earth-friendly hotel key cards, gift cards and point-of-sale signage. Sustainable Cards is committed to reducing toxic plastic waste in the world and supporting efforts to preserve and protect a greener planet. Sustainable Cards is a member of 1% for the Planet, pledging one percent of all sales to the preservation and restoration of the natural environment. For more information, visit http://www.sustainablecards.com
For information about this release, contact Gift Card Network LLC, info(at)thegiftcardnetwork(dot)com, Portland, OR
###