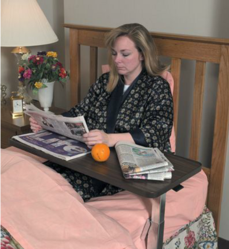 Fulton, MD (PRWEB) May 28, 2013
Reading, writing, eating, using the computer – they're parts of our daily routines that we take for granted, but for individuals who must spend prolonged periods of time in bed, these everyday activities acquire an increased level of difficulty. Fortunately, there are products designed to assist with these tasks – and they just got a lot more affordable.
Justhomemedical.com is in the process of re-launching their website. Over the past several months, the Fulton, Maryland company has made significant changes to its selection of shower chairs and bath lifts. Now, Just Home Medical has given its overbed table category a revamp as well, with over 2 dozen unique options to accommodate a variety of users. With prices ranging from $19 to $448, there's something for everyone.
"We sought out manufacturers with the most durable, reliable overbed tables on the market," Bryan Mercer, Just Home Medical's co-founder said in a statement. Mercer, a licensed pharmacist for over 30 years, went on to enthusiastically recommended the Drive Non-Tilt Overbed Table as his top pick.
"It's a great, affordable way for patients to continue about their daily routine," Mercer said. "They can read, write, eat, and so on, and since the table has a large, attractive surface, it will fit in with any decor. It's also super easy to move around, which is a definite plus."
Most of the overbed tables are designed with an "H" base to accommodate chair or bedside use. All the user needs to do is wheel the unit over to the side of their chair on bed, and adjust the tabletop to the desired height. On average, the tables can accommodate up to 100 pounds of weight – with the exception of the Drive Bariatric Overbed Table, which can hold up to 500 pounds – two people can easily, comfortably stand atop it!
Just Home Medical will continue to expand their product offerings in the coming months, with re-launches planned for safety bed rails, transfer benches, and bedside commodes, just to name a few categories.
About JustHomeMedical.com
Just Home Medical provides a wide range of home medical supplies and equipment to help families maintain a healthy lifestyle. They offer both convenience and selection with thousands of products to choose from that can be delivered right to your home. Their user reviews, product videos, detailed descriptions and variety of search options makes it easy to find the products best suited for you. JustHomeMedical.com is proud to serve the millions of families who seek practical solutions to everyday medical problems and want the best products at the lowest prices.