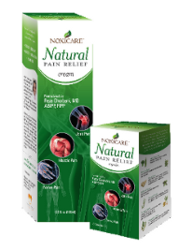 Reducing pain and enabling a better quality of life is the guiding philosophy of my life's work.
Washington, District of Columbia (PRWEB) May 28, 2013
What part of your inflamed knee, sore muscles, or achy back would you like to see go away? If you suffer from joint, nerve, or muscle pain, then read on to discover the breakthrough that can change your life.
Good news comes in the form of a "natural pain reliever" that is used for localized and all over joint, nerve, and muscle pain. Reduce Pain Levels: This natural pain reliever is made from seven of the world's most potent natural pain relievers that when combined, each ingredient is a catalyst for the next, allowing the most optimal result. The seven ingredients include: turmeric, willow bark, boswellia, holy basil, alpha lipoic acids, ginger, and rosemary.
Jeff Johnson from Kentucky agrees, saying: "Within three days the pain was gone. I still can't believe it, it feels like a dream. I thought this was a life sentence, but thanks to Noxicare I am active and pain free again."
Developed by a Harvard-trained, Board Certified, Internationally recognized Pain Management Doctor, Reza Ghorbani has been in the field of pain relief for over fifteen years. "Reducing pain and enabling a better quality of life is the guiding philosophy of my life's work. Noxicare makes a real difference in my patients' lives, and I'm proud to share this discovery with the world."
Non-greasy and odorless?
Jamie Braxton of New York claims so, stating: "This cream from Noxicare offers a great product for natural pain relief. It's a good alternative for anyone with chronic or acute pain. My favorite part about this pain reliever is that not only does it actually work, but it's also completely odorless and non-greasy."
Joint, Nerve and Muscle Pain
While some other products may only reduce inflammation, decrease muscle aches or increase blood flow individually, Noxicare treats all three - not by numbing the pain point - but by targeting the source of the pain with a natural formulation that deeply penetrates layers of the skin to help promote the body's of healing process.
Relief without a prescription: When Noxicare Natural Pain Relief Cream was clinically tested, the results showed that 90% of all patients saw a decrease in pain, with 60% seeing a relief by at least 50%.
Shelly Aiken from Austin reports, "My husband is getting great results with the Noxicare and feels that it has reduced his pain by at least 60% and for him that is a huge improvement. I am also using the Noxicare and getting great results too! When my carpal tunnel syndrome acts up (a few times a week), I would estimate that about 85% of my forearm and wrist pain disappears due to the cream."
Noxicare is ideal for sufferers of Joint, Nerve, and Muscle pain. The benefits of the products is that they are 100% safe, odorless, non-greasy, fast-acting, long-lasting, paraben free, give off no hot/cooling feeling and does not cause a burning/stinging that other topical pain relievers are known to give off.
Noxicare can be purchased by calling 877-NOXICARE or by visting http://www.noxicare.com.