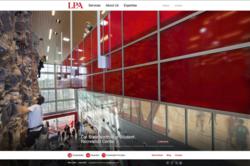 They're trying to think ahead of the curve and not just work within the confines of today's standards.
Irvine, CA (PRWEB) May 30, 2013
Orange County's largest architecture firm, LPA Inc., continues to set the bar high when it comes to design. In 2012, LPA was named a Top 25 Green Design firm and California Design Firm of the Year by industry magnate, Engineering News-Record. Since then, LPA has continued to make impressive strides in architecture and engineering, and has matched their cutting edge design techniques with an advanced strategy for their online web presence.
This month, LPA debuts the reimaged LPAinc.com. Designed by Long Beach-based Visualade, the site allows visitors to get a feel for the company—a behind the scenes, if you will—in a unique way.
"Because they continually produce innovative, visually-stunning projects, it made sense that they needed an inspiring web presence that maintains pace with today's technologies," explains Jesse Dean, Founder and President at Visualade and lead designer of the new site.
Since the launch, the number of visitors to LPAinc.com has increased 34 percent and page views are up 48 percent. How did a modern makeover boost traffic to the firm's website? For the design team, LPAinc.com, like the company itself, is all about responsive design.
"The website is a direct response to make it easier for user navigation. It can respond to different devices that people are using," says Dan Heinfeld, President at LPA. "Whether it be a tablet, desktop, or mobile device, the website adapts to it, making it easier for people to use it and view it."
Recently, Mashable wrote a publication calling 2013 the Year of Responsive Web Design. A responsive design allows the user to clearly read text and view photography with his or her device of choice. Designers of LPAinc.com knew that to stay ahead of the curve, this is a critical aspect in any design.
"It isn't unlike how we design buildings," Heinfeld continues. "Essentially, good design requires understanding who the users are, how they'll use the facility, and create a building that is responsive to their needs. It's only natural that the website would reflect that same process."
Lead designer, Jesse Dean, agrees. "Each interactive project we produce here at Visualade is always different from the next. Technology changes faster than anyone can really keep up with," he states. "Interestingly enough, these similarities are just as relevant to LPA. They're not only keeping up with new technologies, but they've shifted the way that sustainable architecture works with environment. They're trying to think ahead of the curve and not just work within the confines of today's standards."
According to Glenn Carels, Design Principal at LPA, the responsive design combined with a simplified site map makes navigating through the website easier than ever before. This reorganization minimizes the guess work for clients, ultimately serving them better and connecting them with the integrated design information they seek—in less time.
"We have never tried to convey as much information, visually or written, like we are now," explains Carels. "This website not only looks really well done, but I'm amazed at how in a few clicks, you can sort through a variety of different information, no matter what your device."
The simple idea of a device-adaptive site has made a world of difference for the visitors of LPAinc.com. With responsive design, the web design team brings LPA's values of sustainability, efficiency and timeless design from the physical world into the cybersphere.
About Visualade
Visualade is an award winning design and interactive agency with a passion for forward-thinking strategy and technology. Having designed and developed varied technologies in assorted mediums for a wide range of clientele, Visualade has become known as a trusted partner to many, since 2001. For more information, visit Visualade.com.
About LPA Inc.
Founded in 1965, LPA has nearly 200 employees with offices in Irvine, Roseville, and San Diego, Calif. The firm provides services in architecture, sustainability, planning, interior design, landscape architecture, engineering, and graphics. There is no "Sustainability Director," at LPA. Instead, more than 80% of the professionals are LEED accredited, including the Human Resources Director, CFO, and several other support staff. With extensive experience in public and private architecture, LPA designs a diversity of facilities that span from K-12 schools, colleges and universities, to corporate and civic establishments. More than 500 major design awards attest to LPA's commitment to design excellence. For more information, visit LPAinc.com.