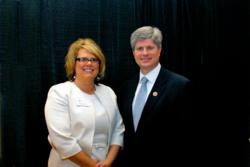 Lincoln, NE (PRWEB) May 28, 2013
Tabitha, your answer for Elder Care, recently honored a select group of supporters who have given extraordinarily in the pursuit of outstanding, compassionate care for southeast Nebraska Elders. Those organizations and individuals were recognized at Tabitha's annual Rockstar celebration and included Tabitha staff member Carol Pewthers, American National Bank, Southwood Lutheran Church, Downtown Rotary Club #14, and longtime friends of Tabitha, Dr. Alan and Sharon Seagren.
The luncheon celebrated Tabitha's commitment to Elders and in particular, Tabitha Meals on Wheels. Proceeds from the event totaled $35,000 and went to support this vital community service. In attendance at the celebration was Congressman Jeff Fortenberry, who provided opening remarks highlighting Tabitha's long-standing commitment to the Lincoln community. Also in attendance were State Senator Russ Karpisek, State Senator Amanda McGill, State Senator Kate Bolz, Lincoln City Council Chairman Carl Eskridge, Lincoln City Councilman Gene Carroll, Lincoln City Councilwoman DiAnna Schimek and Lancaster County Commissioner Jane Raybould.
In operation since 1967, Tabitha Meals on Wheels today is the only program of its kind in Lincoln. With the help of hundreds of volunteers, it operates 365 days per year delivering nutritious meals to more than 400 individuals daily. Often, access to proper nutrition is the last factor allowing Elders to remain independent in their own homes. For some, this independence is financially out of reach. More than 70 percent of Tabitha Meals on Wheels clients cannot afford the full $5.75 cost of a meal. Supporters of the Tabitha Foundation ensure Tabitha Meals on Wheels is able to say 'yes' to those in need, regardless of their ability to pay.
Contact the Tabitha Foundation at http://www.Tabitha.org/foundation or 402.486.8509 for more information about how you can support our community's Elders.
As a nonprofit organization serving 28 Nebraska counties, Tabitha's love embraces a society where everyone is valued and empowered to live life to the fullest, with compassionate at-home support, innovative living communities, exceptional rehabilitation, health care and hospice services. For answers to all your aging questions, tune in to Tabitha's Answers on Aging, airing each Saturday morning, 9:30 a.m. on KFOR 1240 AM, or subscribe to Tabitha's quarterly magazine, The Answer, at http://www.Tabitha.org.