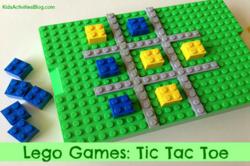 Classic board games meet LEGOs on Kids Activities Blog.
Dallas, TX (PRWEB) May 28, 2013
Make a LEGO game together with the kids. Classic games such as tic tac toe can be easily build with LEGOs at home. Kids Activities Blog features a llong list of DIY LEGO games.
To build a LEGO tic tac toe game, find a large LEGO base board, some flat narrow one dot wide bricks, and a handful of bricks that are uniform size and color. To set up the game board, simply press the flat narrow pieces into the classic tic tac toe formation on the board. Each player chooses his or her own set of bricks and ready is the fun game.
Another fun way to play tic tac toe is by using word families. Instead of using game pieces, use word cards to fill in the spaces. Let the child come up with word family cards and choose which ones to use to fill in the spaces. The tic tac toe games make great travel games for summer vacation, too.
For detailed instructions and to get additional fun DIY LEGO games, check out Kids Activities Blog this week. Come get inspired to have some fun with the kids playing classic board games with new twists.
About Kids Activities Blog
Kids Activities Blog is a website created by two moms (who collectively have 9 children), Rachel Miller and Holly Homer from June Cleaver Nirvana. It is their daily goal to inspire parents and teachers to play with kids. This interactive website publishes simple things to do with kids twice a day. Kids Activities Blog is a great tool for moms and teachers to find kid-friendly activities that create memories and sneak learning into the fun.