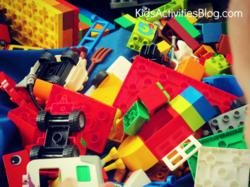 Build a Greek Labyrinth with LEGOs and let Greek Myths come alive.
Dallas, Texas (PRWEB) May 30, 2013
LEGO activities are always fun for kids. Kids Activities Blog has released a laundry list of fun labyrinth and maze activities perfect for playtime that sneaks in a bit of learning. Maze activities practice problem solving and reasoning skills all while having lots of fun.
Build a Greek Labyrinth out of LEGOs and let Greek Myths come alive. Materials needed for this LEGO activity are LEGO bricks, a Minotaur, some string, Theseus or a figure to defend against the Minotaur like a Lion and lots of imagination. Reading Usborne's Greek Myths for Children will spark the kids imagination for this LEGO activity. Either make a random maze, or let the child copy a maze. Copying a maze is a great way to develop math skills with pattern recognition.
Once the maze is complete, add the Minotaur and various other chosen creatures and weave the string into the labyrinth. Let the child have fun reenacting the plot of the Greek Myths.
Other fun maze tips with LEGOs include using a string to aid in making the path, using a base plate and toy car to build the maze layout, or simply using maze templates published on Kids Activities Blog to recreate mazes with LEGOs.
For detailed instructions and to get additional fun LEGO activity ideas, check out Kids Activities Blog this week. Come get inspired to let the kids have lots of fun with LEGOs.
About Kids Activities Blog
Kids Activities Blog is a website created by two moms (who collectively have 9 children), Rachel Miller and Holly Homer from June Cleaver Nirvana. It is their daily goal to inspire parents and teachers to play with kids. This interactive website publishes simple things to do with kids twice a day. Kids Activities Blog is a great tool for moms and teachers to find kid-friendly activities that create memories and sneak learning into the fun.