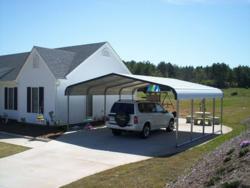 (PRWEB) May 25, 2013
Carport Empire is excited to announce a new addition of storage buildings with wood floors. These storage buildings offer new options for storage, as well as pricing, and help navigate stifling zoning restrictions to meet any storage needs. The new storage buildings use the same strong 2-1/4 galvanized tubing coating for the framework, but the real changes are to the interior floorings. The outside of the building is still manufactured with the same 29-gauge painted exterior metal, and Carport Empire is offering 12 different colors from which to choose. While the exterior is the same offering as before, this new product that they are now eliminates the burden of purchasing both together.
Now, Carport Empire offers people and businesses who want a floor but doesn't want to pour concrete in place of that, a 3/4 pressure treated floor with a 2x6 floor joist for added support and strength. This will allow the customer the added flexibility to take their portable garage with them in event of a relocation of the storage building. The simple design allows them to load up the storage building and go. Also, the portability will help out with difficult and restrictive building and zoning problems as the portable storage units are no longer considered permanent structures.
Carport Empire blocks and anchors all products to meet local building and zoning requirements for wind, snow load, etc. The portable storage buildings can be shipped preassembled straight to customer's front door, or they can come in kit forms for the do-it-yourself person. Sizes of the portable storage buildings range from 8x8 up to 12x36, including standard applications. Custom sizes are also available. Carport Empire also include options of standard walk-in doors, oversize pedestrian doors, or sectional roll doors. Carport Empire offers door sizes big enough for all terrain tractors, cars, recreational vehicles, etc. They are also pleased to announce that they offer financing up to 60 months, or rent to own, with a no credit check option.
For more information, please contact Kevin Keen at 386.364.7995. More information regarding the structures can be found at Carportempire.com. The mailing address is:
Keen's Portable Buildings, Inc.
620 Howard Street West
Live Oak, FL 32064