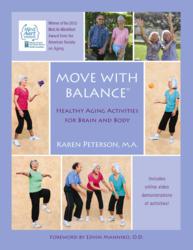 Maui, HI (PRWEB) May 28, 2013
In her new book and video series, "Move With Balance: Healthy Aging Activities for Brain and Body," educational kinesiologist Karen Peterson provides exercises for seniors designed to improve strength and balance, and maintain cognitive agility.
"Seniors of all ages – 55 to 105 -- need to continually work on improving their balance, coordination, strength, vision and cognitive skills," says Peterson. "When they do, they're less likely to fall and more able to enjoy life.
"Exercises for seniors are important so they can keep moving and learning. That's what helps improve balance and coordination, and even helps build new neural pathways," says Peterson, who emphasizes the cognitive element of her workout programs. "But those who are frail or just very fearful of falling are less likely to get up and move around."
This brightly illustrated book, which links to 60 on-line demonstration videos, is loaded with dozens of movements that anyone can do, even the frailest elder. Along with full-color photos of exercises for seniors, the book explains the movements in depth, the why and the how. The videos give a quick visual, and in combination with the book, make it easy to learn the movements.
Peterson created the exercises, all of which incorporate play, and added conversation games and math problems to challenge the brain.
"The concept is to always progress, always get more challenging," she says.
Exercises include tossing a bean bag to improve reaction time, walking a figure-eight pattern for balance, childhood games and cognitive challenges to keep body and mind alert.
"'Move With Balance' is a unique and therapeutic approach to integration of the motor, sensory, and vestibular systems of the brain. Karen Peterson has developed a program that is particularly beneficial to older adults," says celebrated aging specialist, neuropsychologist Dr. Paul Nussbaum. "By building on the reality of neural plasticity and the brain's ability to be shaped across the lifespan, 'Move With Balance' understands the positive outcomes of caring for our cognitive, motor, and spiritual selves."
Amazon reviewer Harriet Witt, who gave the book five stars, writes, "The exercises in this book will improve your balance because they are a perfect balance of science and common sense."
About Karen Peterson
Karen Peterson is founder and director of Giving Back, a nonprofit organization dedicated to improving the lives of elders through intergenerational mentoring. She has multiple certifications, including educational kinesiologist, natural vision improvement instructor, Touch for Health instructor and a massage therapist. For 25 years, Peterson has been teaching these modalities to children, businesspeople, athletes, classroom teachers and adults of all ages and occupations.