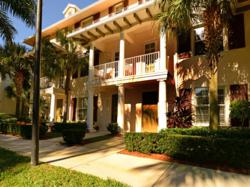 Abacoa is the site of much of northern Palm Beach County's entertainment and activities.
Jupiter, FL (PRWEB) May 25, 2013
The Original Wailers of Bob Marley fame are bringing their multifaceted musicianship to the amphitheater at Abacoa in Jupiter during Memorial Day Weekend.
The much-anticipated concert will take place at 4 p.m. featuring the 2013 Grammy Awards-nominated band, led by guitarist Al Anderson.
Anderson played with Marley before the reggae sensation went solo. On such hits as "Curfew" (Three O'clock Road Block"), "Dem Belly Full" and "No Woman, No Cry," Anderson "wailed" on the guitar and gave those songs their signature sounds. The Original Wailers' most recent release, Miracle, received the nomination for the 55th–annual Grammy Awards.
The family-friendly event will bring the beloved genre of reggae, along with The Original Wailers' touches of hip-hop, pop, rhythm-and-blues and rock 'n' roll, to the outdoor stage in the popular community of Jupiter homes for sale. The concert is being presented by Deuterman Productions.com.
Abacoa is the site of much of northern Palm Beach County's entertainment and activities. The beautiful neighborhood of single-family homes and townhouses in Jupiter is the site of Roger Dean Stadium, a baseball-lover's dream. Roger Dean Stadium is the spring-training home of the Miami Marlins and the St. Louis Cardinals, as well the home field of the Jupiter Hammerheads and the Palm Beach Cardinals.
Earlier this year, the Jupiter Seafood Festival took place in the community, and the Feast of Little Italy comes to Abacoa every November. The May 26 concert looks to be just as popular a draw as the other established events.
Anderson's career has included stints with such music legends as Aswad, James Brown, Ben Harper, Inner Circle, The Rolling Stones, Steel Pulse, Stevie Wonder, Traffic and Peter Tosh. He is taking The Original Wailers on a 2013 tour that made four other stops in Florida before it heads up the East Coat with gigs at The Stone Pony in Asbury Park, N.J., and BB Kings in New York City.
For information about the concert, call the box office at 321-508-5141.
For information about Abacoa, call Waterfront Properties and Club Communities at 561-746-7272.