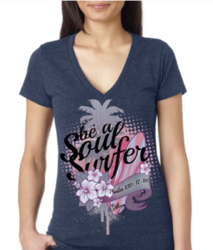 B-Inspired! B-Involved! B-Empowered!
Kauai, HI (PRWEB) May 24, 2013
Bethany Hamilton announced today that she has partnered up with BYOU and has launched a two week campaign to raise money for her new foundation, Friends of Bethany, which supports shark attack survivors, traumatic amputees, and serves to inspire others through her life story.
With BYOU's motto "B-Inspired! B-Involved! B-Empowered!" Bethany was excited to join BYOU to not only raise money for her foundation but also bring a positive message to her fans. The new Signature Series designs incorporate sayings like: Be A Soul Surfer, Born To B-A Surfer, B-Inspiring and Pray For Surf.
The designs will be printed on various apparel and merchandise that will be featured on the website, http://www.BeYourOwnYou.org. For every item sold during the two-week campaign, $7 of every purchase will go to Bethany's Foundation.
A source of inspiration to millions through her story of faith, determination, and hope, Bethany Hamilton continues to set an example to millions around the world. Bethany's story blew-up hundreds of media outlets after a 14-foot tiger shark attacked her on October 31, 2003. Bethany's positive attitude during her journey through recovery has inspired so many people across the world. Through her strong Christian faith, she was able to get back on her board and fulfill her lifelong dream of becoming a professional surfer. Bethany conquered a huge life hurdle, accomplished her dream, and is now traveling the world as a motivational speaker using a podium, as well as her website, http://www.BethanyHamilton.com to inspire people all over the world. The Friends of Bethany Foundation, http://www.FriendsOfBethany.com/, was created by some of her family and friends with the goal of supporting and encouraging shark attack survivors and traumatic amputees worldwide.
About The Friends Of Bethany Foundation:
Friends of Bethany is a non-profit organization dedicated to sharing the hope and love of Jesus Christ worldwide by supporting and inspiring people through the life stories of Bethany Hamilton and others.
The primary goals of the foundation are to: Provide support for shark attack survivors and amputee's worldwide; and present inspiring life stories through movies, projects, and activities.
For more information about how to get involved, visit their website, http://www.friendsofbethany.com/.
About BYOU - Be Your Own You:
Be Your Own You is a lifestyle brand that empowers women and children through positive messaging, apparel and accessories, educational programs and an editorial magazine. BYOU was formed in partnership with Children's Edutainment Network and teen celebrity Cymphonique Miller.
BYOU's Celebrity Signature Series, allows celebrities to create signature designs that reflect their own personalities and highlight the issues of self-image and women's empowerment, key concepts of the BYOU brand. This new strategy is a simple three-step process. BYOU partners with celebrities who create and design a "Signature Series" line of designs incorporating the BYOU brand. The celebrity then chooses a charity to benefit from sales of the designs which will be produced on apparel and various other products. BYOU will market the new designs on http://www.BeYourOwnYou.org for a two-week period and $7.00 from every item sold will go directly to the charity the celebrity chooses.
For more information, and to check out the online store visit, http://www.BeYourOwnYou.com.
###