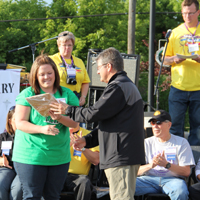 Dubuque, Iowa (PRWEB) May 28, 2013
Platinum Supplemental Insurance employees and sales representatives worked together to raise over $14,700 to donate to the American Cancer Society Relay for Life of Dubuque.
The company raised most of the funds through donations made for "dress-down" days and monthly voluntary deductions made from commission checks. Platinum also hosted a few fundraising events, including a Halloween costume contest, Chili Cook-off, Walking Taco Luncheon and an iPad raffle.
Platinum's fundraising efforts were led by Senior Customer Service Specialist/Training Coordinator Ann Jegerlehner, who has coordinated Platinum's efforts for the past two years.
"Because we interact with cancer patients and survivors on a daily basis, the staff at Platinum knows firsthand how important it is to find better treatments for this disease," Jegerlehner said. "This is just one reason we continue to support the American Cancer Society of Dubuque."
The company has participated in Relay for Life for six consecutive years and was the highest local fundraiser participant the past two years. Platinum will join the Dubuque community for the Relay for Life event on Friday, May 31, at the Port of Dubuque.
About Platinum:
Platinum Supplemental Insurance is one of the most innovative marketers of exclusive supplemental insurance products in the Midwest, offering custom designed products that include Cancer, Heart Attack & Stroke, Long-Term Care and Accident & Disability insurance solutions.
Headquartered in Dubuque, Iowa, Platinum's growth is a direct reflection of its commitment to exceed customer expectations with excellent service and affordable products that are underwritten by highly rated companies. In addition, Platinum has proudly held an A+ rating from the Better Business Bureau since 2004 for meeting the bureau's accreditation standards year after year.
With a solid fundamental mission to provide the best products and services to their customers, Platinum also invokes a commitment to their representatives and employees with outstanding opportunities for personal, professional and financial growth.
For more information on Platinum Supplemental Insurance, visit http://www.pltnm.com or contact them directly at (563) 557-2504.