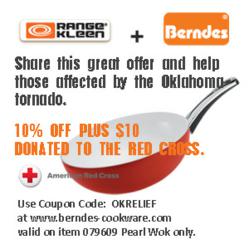 to "Take Care of the Customer, from the Presidents desk to the Shipping Dock."
Lima, Ohio (PRWEB) May 24, 2013
Range Kleen Mfg. strives to "TCOTC." Our number one motto is to "Take Care of the Customer, from the President's desk to the Shipping Dock." We hold high in our values to perform with honesty and integrity, and having passion while creating excellence and quality being results oriented. It is very important to us as a company to do the right thing and what better way to help with a great cause to donate to those affected by devastation.
Throughout the year Range Kleen donates to numerous local charities as a way to stay connected to the community and share a helping hand to those organizations. At this time, the company feels it is important to not only help the community but also donate to others outside the immediate community, especially at this critical time of need. Range Kleen values are carried over with our representation and partnership with Berndes as well.
Every little bit helps. Please help support the AMERICAN Red Cross. To participate in this exclusive offer to support the American Red Cross, please go to our Berndes website at http://www.berndes-cookware.com. There you will be able to purchase our Berndes Milestone Pearl wok with Red Apple accent, Item 079609, to support the Oklahoma Relief Fund. Using code OKRELIEF at checkout, you will receive a 10% discount on the listed website price (enter code in shopping cart) and Range Kleen/Berndes will donate $10 from every sale through June 30th of this item to the American Red Cross/Oklahoma Relief Fund. Berndes/Range Kleen is also offering a special promotion through our retail clients, offering a discount off purchase order and sending 10% of the order to the Red Cross through June 30th.
About Range Kleen Mfg., Inc.
Range Kleen Manufacturing, Inc. is a Lima, OH based company manufacturing household products sold to major retail chains globally and has been taking care of the customer (TCOTC) since 1971. Its product divisions include: Original Equipment Manufacturing Quality (OEM) replacement drip pans for ranges & stoves; Non-stick Metal Bakeware; Kitchen Decorative products specializing in exclusive licensed designs; Storage, Organization, insulated food and beverage bottles and household cleaning supplies. Range Kleen Introduced their own line of cookware- Stainless Steel and Enameled Cast Iron as well as pot racks in 2007.
Effective December 21, 2009, Range Kleen Manufacturing was pleased to announce the partnership with Berndes Cookware USA and has taken the lead of all sales, marketing and shipping of Berndes Cookware USA from their International Headquarters in Lima, Ohio.