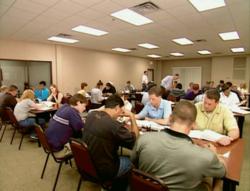 We have proven that with proper education kids can and do choose to quit drugs on their own. There is hope," says Niko Bain, drug prevention lecturer at Narconon Arrowhead.
Canadian, Oklahoma (PRWEB) May 28, 2013
Teen drug abuse rates have skyrocketed across the United States leaving nothing in their path of destruction. The issue has been covered in the media and through many government studies. And the reason why many experts feel that it is such an issue is because "teens are not educated enough about drugs."
According to the newest statistical reference from the National Institute on Drug Abuse titled Drug Facts: High School and Youth Trends teens seem to be struggling with a series of substance abuse issues. Teen marijuana use rates have continued to go up with 6.5% of 8th graders, 17% of tenth graders and 22.9% of seniors had used the drug. Every day use of the drug has also increased to 6.5% up from 5.1% in 2007.
Along with marijuana the teen prescription drug use problem has been called a nationwide epidemic. In fact, in 2012 nearly 15% (14.8%) used a prescription drug non-medically.
The goal in stopping teen marijuana and other drug use is changing "perceptions and attitudes," according to NIDA. However without effective programs to educate kids this is falling by the wayside. And with many losses, we, as a society are starting to give up.
"Drug use seems to be a growing problem and many would say it is out of control, but we have proven that with proper education kids can and do choose to quit drugs on their own. There is hope," says Niko Bain, lead drug prevention lecturer at Narconon Arrowhead.
Niko and the team at Narconon Arrowhead, a residential drug and alcohol rehabilitation and prevention program in Canadian, Oklahoma set out many years ago to change attitudes about addiction and drug use. Traveling to schools across the state they deliver drug education seminars free of charge to schools to get the message out about the dangers of drug use.
Over the last 20 years the team has educated half a million kids in the states of Oklahoma, Texas, Arkansas and Kansas.
And the results speak for themselves. In fact, just this week at a local school after hearing a presentation he was asked how his thoughts changed after hearing the presentation. His response: "It made me realize I never want to do drugs."
"The above shows that this problem can be reduced and ultimately eradicated by simply giving kids the proper knowledge about drugs and this is what we are doing with Narconon Arrowhead drug education," adds Niko.
Even with rates of use still going up there is still hope to keep kids off drugs by preventing the problem in the first place. Call Narconon Arrowhead today for more information on how you can implement a successful prevention program in your school or workplace at 800-468-6933.