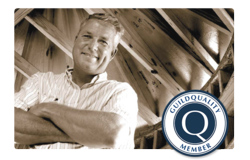 These surveys, personally conducted by Guild Quality, will help us ensure the best in customer service for our clients, by implementing service improvements based on the feedback we receive. - Frank Farmer, American Metal Roofs-CEO
Grand Blanc, MI (PRWEB) May 28, 2013
American Metal Roofs (AMR) is pleased to announce a new partnership with Guild Quality. Guild Quality is the leader in customer satisfaction surveying for the residential construction industry.
This partnership was created to provide past and present customers of AMR an easy, efficient way to complete surveys about their experience working with the company. The goal is to elevate the building profession to a stature commensurate with its importance in our community.
"These surveys, personally conducted by Guild Quality, will help us ensure the best in customer service for our clients, by implementing service improvements based on the feedback we receive." - Frank Farmer, American Metal Roofs-CEO
The Guild Quality profile page for AMR can be found here.
About Guild Quality:
Guild Quality's Customer Satisfaction Surveying gives home builders, remodelers, and home services contractors the ability to easily collect and analyze information about the experience homeowners have in working with their company. As an independent 3rd party, we survey your customers about their experience and provide the results. http://www.guildquality.com
About American Metal Roofs:
American Metal Roofs provide residential and commercial metal roofing products and services throughout Michigan. Customers receive stunning, permanent, energy-saving metal roofs, professionally installed. http://www.AmericanMetalRoofs.com