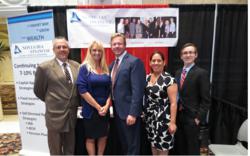 Now that the market is stabilizing across the nation, there are a lot of exciting opportunities out there. We have a great deal of growth right here in Las Vegas with the current real estate market
Las Vegas, Nevada (PRWEB) May 29, 2013
Last Monday and Tuesday, May 20th and 21st marked the annual American Institute of CPA's Conference on Tax Strategies for High-Income Individuals at the Bellagio Hotel and Casino in Las Vegas, Nevada. The event focused on the latest income and estate tax changes and strategic solutions to avoid any impact those changes might have on a tax professional's higher income clients. The event drew over 500 attendees and over 20 exhibitors from around the nation. Among those exhibitors was Novus Dia Financial, a real estate asset management firm, headed by real estate investment expert, Mike Eckerman.
Eckerman wanted Novus Dia in attendance to network and discuss current thoughts on the latest real estate market trends. In addition, Eckerman and his team also spent time at the event presenting and discussing Novus Dia's fresh approach to fixed income and capital appreciation strategies to real estate investing. "Now that the market is stabilizing across the nation, there are a lot of exciting opportunities out there. We have a great deal of growth right here in Las Vegas with the current real estate market. Those opportunities are proving to be lucrative investments that offer above market returns with excellent security. We want the financial advisors and tax professionals to share our current opportunities and the ensuing benefits with their clients" explains Eckerman. He adds, Las Vegas, alone in the past year has had a 30% increase in home prices with sustainable growth on the horizon.
According to a recent report by the National Association of Realtors, April was another month of growth for the industry. Home prices once again rose an additional 2.3% as inventory continued to decrease. "In Las Vegas, the inventory is becoming limited, which is driving those prices up as well as the sustainable high demand for those properties. However; there has also been a 50% increase in construction permits so new construction is likely on the horizon" said Eckerman. He adds that the current home prices in Las Vegas are still undervalued and that the cost to build a new home exceeds the current cost to purchase an existing property.
Novus Dia Financial is a Real Estate Asset Management and Strategy Firm that specializes in acquiring, leasing and selling Residential Real Estate. Novus Dia Financial also provides education to individuals on how they can earn above market returns through Proprietary Real Estate Investment Strategies. Novus Dia has office locations in Las Vegas, Newport Beach, Beverly Hills and San Francisco.
Contact
Sean Delanty
sdelanty(at)novusdiafinancial(dot)com
Marketing Coordinator
Novus Dia Financial