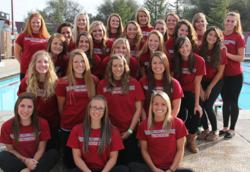 This group of young women athletes are some of the best I've ever had the pleasure of coaching. I'm very proud of each and every one of them. They will be great representatives of Sierra College on the All American Swimming Team. -- Scott Decker
Rocklin, CA (PRWEB) May 26, 2013
The Sierra College women's swim team has a long history of producing amazing athletes, and this year is no exception. Leading the way for the Sierra College by making All-American status in eight events each were sophomore Lauren Kilpatrick and freshman Libby Machado.
Kilpatrick, who will attend CSU Bakersfield in the fall on a swimming scholarship, was named to the All-American team in the 100 IM, 200 IM, 50 breastroke, 100 breastroke, 400 and 800 freestyle relays, and 200 and 400 medley relays.
Not to be shown up by her older teammate, Machado also made it in eight events including the 50 freestyle, 100 IM, 50 and 100 butterfly, 200 – 400 – 800 freestyle relays, and the 200 medley relay. Machado's time of 26.02 in the 50 butterfly also broke the Sierra College school record.
Freshman Hannah Jarvis made the list in seven events including 200 – 400 – 800 freestyle relays, 400 medley relay, 100 freestyle, 100 IM, and the 50 backstroke.
Fellow freshman Annie Harriman topped the list next in six events including the 200 and 400 medley relays, 800 freestyle relay, 500 freestyle, and 50 and 100 backstrokes.
Sophomore Lynden DeShane qualified for All-American in four events including the 400 medley relay, 1650 freestyle, and the 50 and 100 butterfly.
Rounding out the list of multiple event status was freshman Carina Wedel in the 200 and 400 freestyle relays, and the 50 freestyle. Sophomore Kaity Zawilski and freshman Leah Cenatiempo also made the All-America Team in the 200 medley relay and 200 freestyle relay respectively.
With this season's group of eight All-Americans, the Sierra College women's swimming and diving team has produced 129 swimming and diving All-Americans since 1999.
For more information about the Sierra College aquatics, contact head swimming, diving and water polo coach, Scott Decker at: (916) 660-8112 or sdecker(at)sierracollege(dot)edu , or Matt Folsom at: (916) 337-2092 or mfolsom(at)sierracollege(dot)edu. Check out our sports webpage at: http://www.sierracollege.edu/athletics