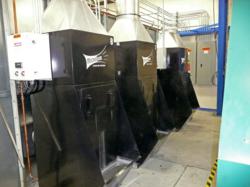 The Micro Air Hydromax Wet Collector allows customers to filter air to a high efficiency and keep it inside the building. -Phil Roland, President of Aquest Corporation
Somers, CT (PRWEB) May 29, 2013
Aquest Corporation is the foremost expert in OSHA compliance for combustible dust collection in the Northeast. Aquest can offer customers unique ways to capture and remove dust with the Micro Air Hydromax Wet Collector.
The National Dust Emphasis Program was created back in 2009 and has caused many work stoppages and fines due to non-compliance. OSHA can fine companies for inadequate dust collection, lack of housekeeping or general cleaning, and negligence.
Dust collectors that do not have an explosion panel or secondary explosion damper are commonly fined by OSHA. Dust collectors have to be properly sized and located outdoors (for the most part) when collecting combustible dust.
Combustible metals like titanium, aluminum, and magnesium have to be collected in a wet collector, which meets all OSHA regulations and NFPA 484 for combustible dust. The Micro Air Hydromax Wet Collector is proven in industry for the collection of combustible metals and is easy to use.
The Micro Air Hydromax Wet Collector features an active and passive vented sump, digital flow control with head's up display, automatic off-gas damper, NEMA-4 Enclosure, stainless steel construction, and a durable marine grade powder coat finish.
The wet collector is great for machining and manufacturers who are involved in Lean and Kaizen. This combustible dust collection system can be ducted to a downdraft table or a process and ordered with casters. The unit can be maneuvered around a facility based on cells and changes to processes.
Aquest Corporation has installed upwards of 50 wet collectors in prominent aerospace companies in New England where it continues to be a successful solution that meets customers' requirements.
Aquest Corporation is a 26 year old environmental engineering firm located in Somers, CT and Saco, Maine. Aquest designs, engineers, installs, and services a complete line of industrial air filtration and air pollution control systems. Please consult Aquest Corporation for all your future air filtration needs, 860-749-3938.