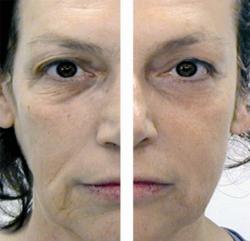 the results are incredible and clients are raving
Delray Beach, FL (PRWEB) May 29, 2013
Bella Reina Spa is making anti-aging skin care a legendary request at this popular Delray Beach spa due to the extraordinary results from their microcurrent facials and microcurrent non-surgcial facelifts. "The outstanding results are due to two new modifications to the treatments," says Nancy Reagan, owner of Bella Reina Spa.
"The first is a new technique with the CACI Ultra Machine which includes feathering, a specialized rolling technique that helps to penetrate ingredients into the dermis layer. The second is the addition of new ingredients including stem cells, growth factors, and peptides, which help to reduce the fine lines and wrinkles. With the two modifications combined, our estheticans are seeing incredible results and clients are raving."
Microcurrent uses low levels of alternating current to re-educate the facial muscles, and increase the muscle energy. The electrical current increases the collagen and elastin, and reminds the muscles of where they were years before. Reagan likes to tell clients, "It can't create what you never had, but if you want a refreshed look and smoother skin, this is the treatment for you."
The Microcurrent Non-Surgical Facelift utilizes a 4-step process during the treatment which includes ultrasonic microdemabrasion, microcurrent current lifting of over 32 muscles, LED light therapy and ultrasound feathering with special anti-aging skin care ingredients. The microcurrent sends electric signals deep into the layers of the skin that tighten and tone the skin and with the addition of the feathering technique, the anti-aging results are visible after only one treatment.
While one treatment can reveal visible changes to the fine lines, wrinkles and roughness of skin, the recommended treatment course is 10-20 treatments. The modification in the treatment has created the non-surgical results that clients are looking for without the price tag or the plastic surgical knife. For a free consultation and demonstration, call Bella Reina Spa at 561-404-7670.
Company Information:
Bella Reina Spa is the leading provider and definitive authority on beauty, wellness and spa treatments in the South Florida area. The spa is dedicated to providing outstanding services and anti-aging treatments, like the non-surgical facelift or the slimming infrared body wrap, to guests with busy lifestyles. Bella Reina Spa was created by Nancy Reagan, a nationally recognized expert in beauty, nutrition, weight loss, skin care and makeup. Nancy and Bella Reina Spa have been featured in the New York Times, WebMD, Les Nouvelles Esthetique & Spa, and PC Advisor for spa industry expertise and business success. To learn more about how Bella Reina Spa is constantly innovating spa services, programs and packages please visit BellaReinaSpa.com.