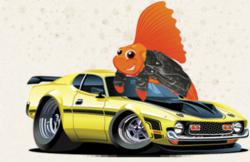 Your credit activity will get reported to the credit bureaus, and the lenders have nothing to worry about because you've already paid them a 'security deposit.'
Los Angeles, CA (PRWEB) May 24, 2013
RoadFish.com men's lifestyle and finance magazine today weighed in on a hearty debate of which is worse: having no consumer credit, or having bad credit. RoadFish.com believes that it is more difficult to establish credit than it is to mend a poor credit score, and offers advise to those who may be struggling to prove their credit-worthiness with no credit history to back them up.
John Oldshue of LowCards.com published an article on May 20, 2013 that entertained the debate of which scenario is worse, having no credit or having bad credit. Oldshue reports that contrary to the belief of many, the two are nowhere near the same thing. Having bad credit shows lenders that a consumer has made bad financial decisions in the past, but having no credit at all doesn't even give lenders a peek into a consumer's financial trustworthiness. Oldshue states that while there are opposing theories about which is worse, having no credit or having poor credit, he is of the belief that it is more difficult to recover from having no or not enough credit.
Likewise, RoadFish.com also thinks that it is more difficult to establish credit than to develop marred credit into good credit. RoadFish.com's Senior staff writer is quoted as saying, "Lenders have trouble lending to people who have no credit history. The tough thing is, it's a tricky Catch-22 to establish credit. Basically, you need credit in order to get more of it. And if you don't have any, it's hard to get started. That's why I tend to think it's better to just work on your existing credit, crappy as it may be, than to try to start from nothing and grow your credit with no proof of financial trustworthiness."
In the above-mentioned LowCards.com article, Oldshue compares the two scenarios to people interviewing for a job. He writes, "A boss at an oil field can either hire someone with no training straight out of high school or someone who got fired after working 10 years as an oil rigger. Should the boss spend time training and testing the new guy or give a shot to the one with experience? A number of executives would choose option #2."
RoadFish.com offers some useful advice to people who have little or no credit and are struggling to establish some. RoadFish.com's Senior staff writer is quoted as saying, "If you are having trouble qualifying for credit because you have none, and are wondering how to get credit score, you should consider applying for a retail credit card. Cards like the Chevron card, Macy's card, and even Gap card are good because typically their credit limit is low so they don't put as much weight on needing to see a strong credit history from the lender. Another way to get your credit off the ground is to get a secured credit card. This is a way to put down a sum of money as collateral, and then get a credit limit on a credit card. Your credit activity will get reported to the credit bureaus, and the lenders have nothing to worry about because you've already paid them a 'security deposit.'"
Oldshue states in the above article that the silver lining that those with bad credit have is that if these consumers are working on their credit or are now making more money, lenders may overlook a lower score or factor the events that led to a low score and determine if perhaps they may be past issues, and no longer threats. Those with no credit do not have the opportunity for this type of consideration.
About RoadFish.com:
RoadFish.com is an men's online finance and lifestyle magazine targeted towards guys in their 30's and 40's who have enjoyed moderate personal and professional success, and take pleasure in going after new challenges. RoadFish.com publishes articles about dating, restaurant reviews, comparing which is the best online dating service, and reviewing luxury items for men. RoadFish.com also writes financial articles, giving personal finance advice, budgeting tips, and reporting on current financial events like the recent use of credit reports in the courtrooms. RoadFish.com is owned and operated by Purpose, Inc.