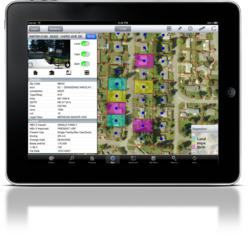 smart sync keeps employees on the go and at the office productive
Redmond, WA (PRWEB) May 27, 2013
Mobise, developer of leading edge mobile solutions for business and government, announces the Mobise Platform enabling iPad applications to be built quickly, easily and securely, with PC based tools blending data and GIS maps. Mobise keeps employees on the go and at the office productive and on the same electronic page with smart synchronization.
Utopia for enterprise mobile applications would be a constant connection to real time data back at the office with changes made in the field reflected instantly on the corporate databases.
Sadly, reality dictates otherwise. Though field professionals are more efficient with mobile devices like the iPad, they are plagued by a lack of consistent 3G/4G coverage and the occasional system outage back at the office.
How do field professionals remain productive and how do companies maintain the most accurate and recent data?
Many companies have mobile applications and there are companies who offer a platform for enterprise mobile development. Usually these require a constant connection. It's crucial to understand how they handle wireless interruptions and the potential data collisions that could happen when an employee in the field and another at the office make changes to the same record around the same time.
Even if a company is located in an area with perfect 3G/4G coverage, a natural disaster can shut it down. Maintaining productivity also includes protecting the changes field employees make on their devices.
It's not enough to just cache or store the data when wireless coverage is lost and upload it later to the company's database.
The Mobise Platform keeps employees on the go efficient with and without wireless connection via smart synchronization. Its core elements cover building, running and managing enterprise mobile applications.
Mobise created its platform while developing a groundbreaking iPad application for field appraisers, many of whom were doing their work with paper and pen. Mobise Appraiser allows them to:

access the office databases to receive and send updates securely
continue their work when a 3G or Wi-Fi connection is lost, and sync smartly
capture photos and integrate them immediately to the appropriate record
take notes and integrate them immediately to the correct file
know their exact location with integrated GPS
view aerial and/or Google maps
sketch floor plans and additions
make decisions or track work with integrated intelligent maps with layers and renderers
The Mobise Platform contains services and familiar Microsoft Windows based tools upon which companies can build their own custom applications for their employees or clients. It can be deployed onsite or as a cloud service. It gives users the ability to design custom forms for the screens, utilizes security to protect data and devices, and synchronizes intelligently with the corporate databases.
Any type of mobile asset management solution can be created with the Mobise Platform. Employees can head out into the field with the relevant portions of the database(s), GIS maps, including aerials, all downloaded onto the device. For example, service professionals can download the detailed information of assets they manage in their territory, can inspect and repair them, map out the most efficient route, track their work graphically, take photos, attach verbal or written notes, issue orders for parts or follow up service calls. They remain productive even if they lose connectivity or if a system goes down back at the office. Any changes made during the "downtime" are automatically sync'd between the field and office when connection resumes.
Continued productivity is made possible with the Mobise Synchronization Service. It is designed to handle the reconciliation of information changes for the devices that might have occurred in disconnected mode, as well as changes that occurred back at the office during the same time. This is drilled down to the individual field levels and changes tracked by user. The Mobise iPad Appraiser application reconciles and manages well over 100 fields.
Data conflicts or collisions are handled by pre-built rules set up in the platform and users are notified as needed.
The Mobise Platform is an enterprise class mobile development solution that is simple, flexible and powerful for business and government. It allows companies to bring mobile solutions to employees quickly, efficiently and securely. To learn more, please email info(at)mobise(dot)com.