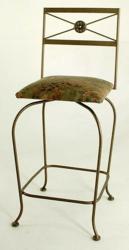 Explore the Grace Collection at Goedeker's.
Ballwin, MO (PRWEB) May 27, 2013
"We are excited to now offer our customers the unique, iron-wrought furniture from the Grace Collection," says Steve Goedeker, CEO of Goedeker's. "If you want to give your home a distinct look, Grace Collection's hand-crafted furniture is sure to do the trick."
The grace collection consists of barstools, bakers' racks, wrought iron beds, dining chairs, dinettes sets and tables, suits of armor, swords and store display fixtures.
Explore the Grace Collection at Goedeker's.
About Goedeker's
For more than six decades, Goedeker's has set the standard for excellence in the St. Louis retail appliance market. Since expanding online, Goedeker's has brought the same tradition of excellence to the nation. Goedeker's has continued to grow offering furniture, mattresses, and plumbing supplies, in addition to major appliances. Discover special appliance package deals, GE Appliances and real customer reviews at Goedekers.com.
About the Grace Collection
Grace Mfg. Co. Inc. is a metal and wrought iron furniture manufacturing company selling at wholesale. We are located in the NW corner of Ga. in the town of Rome. Our accessories division, The Grace Collection, imports and distributes unique home accents and accessories for the home. We manufacture barstools, bakers racks, wrought iron beds, dining chairs, dinettes sets and tables and store display fixtures. Our line of gift store fixtures is great for retail store display. The line also includes kitchen counters stools, hanging pot racks for the kitchen and bistro sets in a variety of styles from whimsical to neoclassic and traditional. Grace pot racks are a favorite with gourmet stores. The company has been in business for over 25 years and we employ skilled artisans and craftsmen. Aside from having some state of the art manufacturing equipment we still assemble and finish our product by hand. Many of our items are handmade or hand painted and very unique. We have gained a reputation for implementing unique ideas to traditional products. You will not find a better resource for attractive store fixtures and display fixtures with glass shelves for gift and specialty stores. The cast dining base line is very nice with thick glass table tops. You will also find that we are an excellent resource for glass.