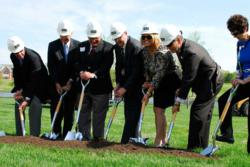 ...we decided in the spirit of collaboration that, indeed, two heads—and hearts—are better than one.
Lincoln, Neb. (PRWEB) May 27, 2013
Tabitha, your answer for Elder Care, and The Landing, an Immanuel Community, recently announced a paradigm-shattering, innovative collaboration for the benefit of Lincoln-area seniors.
Joined by their common, Christian-centered missions, the two organizations are shedding the common perception of cutthroat competition within a health care industry tightly entangled both in fiscal uncertainty and political discord. Instead, in an effort united to serve the bests interests of the community, they have brought together Tabitha's historic, award-winning nursing care with Immanuel Communities' excellence in living community design and support.
A groundbreaking ceremony on May 15 officially introduced their first cooperative project: a visionary, resident-centered skilled nursing and long-term care living community on The Landing's south Lincoln campus.
"Because both Tabitha and Immanuel believe in offering only the best to Elders throughout the aging journey, we decided in the spirit of collaboration that, indeed, two heads—and hearts—are better than one," said Christie Hinrichs, Tabitha president and CEO.
The collaborative community will feature 15 private suites—two built for couples—along with many shared indoor and outdoor living spaces where residents are encouraged to interact, form relationships and live their daily lives in an environment that's just like home.
"For decades Tabitha has led the way in forward-thinking solutions for our community's aging population," said Eric Gurley, Immanuel president and CEO. "It only makes sense that Lincoln's finest living communities, like The Landing, would take advantage of the reputation, innovation and commitment to serving seniors that Tabitha has to offer."
Slated to open early in 2014, the community will open for site tours later this year. Elders and their families who want to learn more about becoming a resident are encouraged to contact Tabitha Continuum Navigation at 402.486.8520.
As a nonprofit organization serving 28 Nebraska counties, Tabitha's love embraces a society where everyone is valued and empowered to live life to the fullest, with compassionate at-home support, innovative living communities, exceptional rehabilitation, health care and hospice services. For answers to all your aging questions, tune in to Tabitha's Answers on Aging, airing each Saturday morning, 9:30 a.m. on KFOR 1240 AM, or subscribe to Tabitha's quarterly magazine, The Answer, at http://www.Tabitha.org.