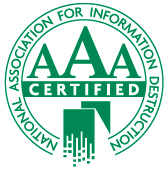 Phoenix, AZ (PRWEB) May 28, 2013
Recently, the U.K.-based, secure destruction company Glazewing Ltd earned the NAID AAA Certification for demonstrating compliance with operational and security specifications for its information destruction processes and services.
"Organizations served by Glazewing are very fortunate to have a company that takes their responsibility to destroy discarded sensitive information so seriously," said NAID CEO Bob Johnson. "According to the U.K. data protection laws, organizations have a responsibility to make sure destruction services can adequately protect personal information. Glazewing has made fulfilling that responsibility much easier by becoming NAID certified."
NAID AAA Certification is earned by successfully completing an intense security audit conducted by an accredited security professional. To maintain the certification, Glazewing will be subject to surprise audits as well as routine scheduled audits.
"We learned many years ago that frequent unannounced audits dramatically enhanced compliance," said Johnson. "They have to know an audit can come at any time, even if they recently had one."
Glazewing joins Shredall Ltd (Nottingham) and Allshred Ltd (Oxon) who have already achieved NAID AAA Certification. Though the number of certified companies in the U.K. is small, it is steadily growing as customers demand better vendor qualifications. NAID currently has more than 40 member locations in the U.K. and almost 2,000 member locations globally.
About NAID: The National Association for Information Destruction (NAID) is the non-profit trade association of the secure destruction industry, which currently represents more than 1,900 member locations globally. NAID's mission is to promote the proper destruction of discarded information through education and to encourage the outsourcing of destruction needs to qualified contractors, including those that are NAID certified.
The NAID AAA Certification Program is offered on a voluntary basis to all NAID member companies providing information destruction services. Through the program, NAID members may seek certification for mobile and/or plant-based operations in paper or printed media, micro media, computer hard drive destruction, and/or computer hard drive sanitization. The certification program establishes standards for a secure destruction process, including such areas as operational security, employee hiring and screening, the destruction process, responsible disposal and insurance. NAID members who are seeking certification are required to submit the Certification Application and associated fees. NAID certified members are subject to announced and unannounced audits to validate certification.