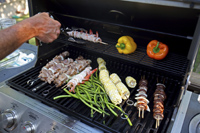 Lincoln, RI (PRWEB) May 24, 2013
With Memorial Day Weekend upon us, cookout season has officially begun. That's why Amica Insurance is offering tips to help prevent grill fires throughout the spring and summer.
The National Fire Protection Association (NFPA) reports that gas grills led to an average of 7,100 home fires between 2006 and 2010. Charcoal or other solid-fueled grills, meanwhile, caused approximately 1,200 home fires per year during that same period.
As a result, Amica Insurance is sharing the following tips from the NFPA to help protect your family and property from grill fires:

Propane and charcoal grills should only be used outside, and they should be placed away from your house, deck railings, eaves and branches.
Make sure children and pets are kept away from the grill at all times, and never leave the grill unattended.
Remove grease and fat from the grill itself and from trays below the grill.
If using a propane grill, check for gas leaks by applying soapy water to the hose. If there is a leak, bubbles will appear. Turn off the tank and grill immediately.
If using a charcoal grill, only use charcoal starter fluid. Keep all other flammable liquids away from the grill.
About Amica Insurance
Amica Mutual Insurance Co., the nation's oldest mutual insurer of automobiles, was founded in 1907. The company, based in Lincoln, RI, is a national writer of automobile, homeowners, marine and personal umbrella liability insurance. Life coverage is available through Amica Life Insurance Company, a wholly owned subsidiary. Amica employs more than 3,200 people in 40 offices across the country.
CONTACT: Vince Burks, Corporate Communications, 50 Amica Way, Lincoln, RI 02865-1155, 800-652-6422, ext. 24563
Twitter: Amica
Facebook: Amica Mutual Insurance Co.