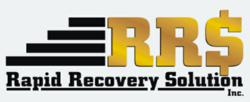 Bohemia, NY (PRWEB) May 28, 2013
On May 28, Rapid Recovery Solution issues a comment regarding abusive debt collection practices.
A May 20 article in Yahoo! News, "Identifying Illegal Debt Collection Practices," highlights the crass tactics used by some debt collectors, including "harassment, and even arrest if payment is not made in a timely manner."
"Harassment or Abuse":
Debt collectors are barred from making, "threats of violence or illegal acts upon the debtor in order to collect a debt." Debt collectors are not permitted to call a debtor constantly and can't make phone calls to debtors, "without disclosing their identity." In addition to coercion, they are also forbidden to swear or use, "obscene language in an abusive manner."
"False or Misleading Legal Claims":
It's illegal for a debt collector to represent one's self as an attorney. It is not permissible to take action on legal pretenses. In addition to that, it is also illegal to make legal claims regarding potential, "criminal charges of wages unless the proper garnishment paperwork has been authorized by a court of law."
"Unfair Practices":
It is unacceptable for a collection agency to collect debt to call or harass a debtor at work if the debtor has told the agency not to. Agencies are also not permitted to, "accept postdated checks more than five days in advance" nor to "require checks for prepaid installments." Postcard correspondence is also prohibited.
"What to Do if You Suspect a Violation":
If a consumer believes a debt collector is attempting to collect a debt by illicit means, record all communication with the collection agency. Be sure to report any illegal behaviors to the Federal Trade Commission in order for them to, "track patterns of illegal behaviors with collection agencies." If problems persist, consider finding an attorney who advocates for consumer rights.
John Monderine, CEO of the collection agency Rapid Recovery Solution, says that the tide is turning within the collections industry. "We're seeing fewer and fewer of these abusive outfits, and the ones that exist aren't able to sustain themselves for very long. Loopholes in the legislation are being closed, slowly but surely. The best thing you can do if you've had debt go into collections is become intimately familiar with the Fair Debt Collection Practices Act – this is the best (and cheapest) way to determine if you're being abused or defrauded."
Founded in 2006, Rapid Recovery Solution, Inc. is headquartered at the highest point of beautiful Long Island. Rapid Recovery Collection Agency is committed to recovering your funds. We believe that every debtor has the ability to pay if motivated correctly. We DO NOT alienate the debtors; we attempt to align with them and offer a number of ways to resolve not only your debt but also all their debts.