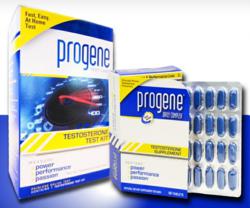 "We're proud that Progene® is part of Vitamin Shoppe," says Michael Lee, of Progene®. "Increasing our distribution with Vitamin Shoppe helps to make Progene® a more accessible alternative to costly, synthetic prescriptions."
Cincinnati, OH (PRWEB) May 29, 2013
Vitamin Shoppe, the country's second largest retailer of Vitamins, Minerals and Supplements (VMS), joins Progene®, the leading all-natural testosterone supplement, in helping men restore their testosterone levels.
"We're proud that Progene® is part of Vitamin Shoppe," says Michael Lee, of Progene®. "In the United States alone, more than 150 million people take a dietary supplement every day. Increasing our distribution with Vitamin Shoppe only helps to make Progene® more accessible while providing consumers more natural alternatives to costly, synthetic prescriptions."
Testosterone is the naturally occurring sex hormone controlling development and maintenance of masculine features. "Because testosterone is associated with health risks such as diabetes, depression and osteoporosis, low testosterone should be as much of a health concern for men over 40 as heart disease, cancer and stroke," says Dr. Andre T. Guay, Harvard Medical School professor and director of the Center for Sexual Function/Endocrinology, Lahey Clinic Medical Center.
"Testosterone is a hot subject right now," said Michael Lee of Progene®. "Each year more than 3.5 million boomers turn 55. As they begin to experience declines in their physical and sensory capabilities, they will demand—and respond to—products and services that help them maintain their active lifestyles and activities. That's exactly where Progene® comes in."
That's also the reason why Progene® launched their, painless, At-Home Testosterone Test Kit. Progene® is the only supplement brand in the country that offers men the opportunity to discover their levels from the convenience of home.
Saliva is "a preferred method of measuring hormonal health," reports The Journal of Clinical Endocrinology.
"Using saliva, I've actually been able to solve and diagnose cases that traditional blood tests do not pick up. Progene®'s saliva test makes sense for tracking changes in hormone levels," says Dr. Lina Nasr-Anaissie, a family practice physician from Little Rock, Arkansas who recently moved to join Cincinnati's University Physicians.
Men can't help getting older, but they don't have to feel old. Progene® helps to increase testosterone levels with a special dual-action formula that contains clinically proven testosterone precursors and rare herbal extracts that support the body's natural production of testosterone. Higher testosterone levels mean healthier - and happier - men.
"As a pharmacist, I feel that Progene's natural formula in tablet form is not only safe, but also very effective." says pharmacist Mark Landman. "I noticed a small change in my energy and mental clarity. I felt better about myself. I even lost a few pounds."
Progene is now available at Vitamin Shoppe or call now to see if you qualify for a free trial. Call 888-PROGENE, or online at Progene.com.
About Progene®
Founded in 2003, Progene® continues to lead the market by addressing the decline of testosterone levels in men as they age. With over 20 million tablets sold, Progene®'s dual-action formula of 19 rare herbal extracts and clinically proven testosterone precursors helps to provide men the ingredients they need to produce more testosterone.
Expanding its national distribution with the recent addition of Vitamin Shoppe, the company continues to grow with the release of their At-Home Testosterone Test Kit. Now men can actually see for themselves what Progene® can do to help restore their Power, Performance & Passion®.
Progene® is currently sold nationwide at Costco.com, GNC Stores, Rite Aid, USADrug, Drugstore.com, Sears.com, Harris Teeter Groceries, Brookshire's Food & Drug, and more than 150 other local and regional retailers.
For more information about Progene® go to http://www.Progene.com.
PR Contact:
Judith Hokanson
Still have more questions? Call us at 1-866-PROGENE.