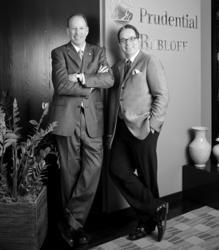 Without a doubt, our agents are the key to our success, and we have them to thank for these acknowledgements.
Chicago, IL (PRWEB) May 28, 2013
Michael Pierson and Chris Eigel, principals of the prestigious Chicago-area real estate firm Prudential Rubloff Properties, were pleased to report that 2012 was a great year for the company with $2.25 billion in sales, representing a 30% increase in closed volume over 2011 sales and surpassing Koenig & Strey Real Living at $2 billion. The company also received recognition from two national organizations.
REAL Trends, Inc., a respected research, publishing and communication company that monitors the country's residential real estate industry, recently ranked Prudential Rubloff #43 in the REAL Trends 500 based on closed sales volume for 2012. The 2013 REAL Trends 500 is a compilation of a nationwide study of leading residential real estate companies documented by outside accounting firms.
Additionally, Prudential Rubloff received the Gibraltar Circle Award from Prudential Real Estate Affiliates with a ranking of first in the Midwest and seventh in the nation in the national network in 2012.
Chris Eigel, CEO, attributed the firm's successes to its agents. "Without a doubt, our agents are the key to our success, and we have them to thank for these acknowledgements. We support our agents in every possible way so they can focus their full attention on selling. The programs and services we offer are at the forefront of our industry's offerings, and we continually invest in our website to maximize traffic and leads. More than 160 agents chose to affiliate with Prudential Rubloff in 2012."
"Another key factor in our success is the luxury market, which is definitely one of our strengths," added Pierson, president and chairman. "The upper bracket improved significantly in 2012 and our agents are extremely adept at working with luxury clientele. We also have the highest average sale price in the MLS as well as the highest productivity per producing agent among the top five firms – accomplishments of which we are very proud."
Since 2007, the firm has continued to grow at a healthy pace, opening offices, acquiring firms and adding agents. Today, Prudential Rubloff has nearly 850 brokers and staff in 15 sales offices. Additionally, Prudential Rubloff has teamed up with extraordinary organizations to provide comprehensive real estate solutions. They include: Sterling Title Services, LLC, Rubloff Insurance Agency, LLC, Rubloff Rentals, Rubloff Vacation Rentals and Wells Fargo Home Mortgage. Special departments within Prudential Rubloff address the luxury market and relocation.
About Prudential Rubloff Properties
Prudential Rubloff Properties has 15 sales offices with nearly 850 sales professionals and staff in Chicago's Gold Coast, Lincoln Park, Lakeview and South Loop neighborhoods as well as suburban Evanston, Hinsdale, Lake Forest, Libertyville, Northbrook, Wheaton, Winnetka and Michigan's Harbor Country. Prudential Rubloff is the exclusive provider of Prudential Rubloff Mobile, a mobile application that allows users to explore all homes for sale, for rent or that have recently sold in the Chicago and Southwest Michigan areas from their mobile device. Prudential Rubloff is also the exclusive provider of the Rubloff Report, a consumer trend and analysis tool for neighborhoods and communities in Chicago's Cook, Lake and DuPage counties. To receive the Rubloff Report, or to download the Prudential Rubloff Mobile application, please visit Rubloff.com.
Prudential Rubloff is an independently owned and operated member of Prudential Real Estate Affiliates, a full-service residential and commercial real estate network with nearly 1,500 franchise offices and approximately 50,000 sales professionals in the franchise network in the United States and Canada. Prudential Rubloff ranked first in the Midwest and seventh in the nation in the Prudential Real Estate Network in 2012. For additional information and the finest online residential real estate experience in the Chicago-area, please visit Rubloff.com.