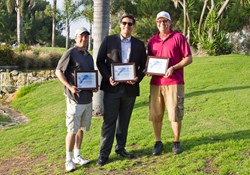 Cerritos, California (PRWEB) May 26, 2013
Broadview Mortgage entered the First Annual Fun Golf Tournament this year with the team name the "Par-takers".
Proceeds from the event go to Tracy High School, the continuation school in ABC Unified School District. With recent budget cuts and a growing student population, Tracy High School has seen an increase in teen moms as the district has had to shut down other schools with teen mom programs.
"We really enjoy being at these events and hearing the stories from teachers. They really care about their students," says Scott Schang, a branch manager and participant at the event.
Broadview Mortgage partnered with Mark Anthony Ruiz of Century 21 Astro, the organizer of the event. Mark Anthony is on the board of directors for the ABCUSD Education Foundation and a key player in making sure Tracy High School was able to get their funds.
Tracy High School plans to use the money raised to purchase caps & gowns for their graduation student.
For more information about the ABC Unified School District Education Foundation or to make a donation, please contact the author at 714.244.7368.