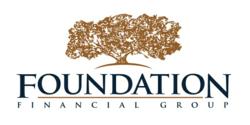 When expecting a storm or severe weather alert, these last-minute preparations could minimize the damage done to your home.
Jacksonville, Florida (PRWEB) May 30, 2013
With hurricane season beginning June 1, many homeowners are dreading the random destruction of Mother Nature's deadly storms. Foundation Financial Group's insurance affiliate, Foundation Insurance Services, offers trusted advice from FIS Vice President, Kevin Alsup, to help families become better prepared before, during, and after the storms strike.
Before the Storm Comes:
Preparedness for hurricane season, or any disaster, should begin with an emergency kit. No emergency kit is complete without a family communication plan that clearly establishes where family members will meet and who they will communicate with after an incident occurs. The emergency kit should include canned and dried food, a can opener, bottled water, essential medication, basic medical supplies, and a functioning flashlight. Assemble the emergency kit in advance. Keeping important identification, financial documentation, and insurance policies secured in an easily accessible, waterproof container within the emergency kit will ensure necessary paperwork can be retrieved for evacuation.
Consult policy documentation for coverage amounts and deductibles so you can be prepared to make a claim. In Florida, homeowners insurance does not cover flood damage, so Floridian homeowners and renters must purchase additional flood insurance. Verify that the insurance coverage matches the replacement value of your home in the current market. Determine whether you have actual cash value or replacement coverage for possessions; cash value coverage only reimburses the depreciated value of property. Conduct a video or photo inventory of household items including furniture, electronics and other valuables to back up any potential claims. Email the inventory to yourself so it can be accessed from anywhere.
Learn the elevation level of the property to predict how it will be affected by flooding and plan accordingly. To reduce roof damage, install straps or additional clips to secure the roof's attachment to the frame structure. Tape does not prevent window breakage, so cover every window in the home. While permanent storm shutters offer the best protection for windows, boarding up windows with 5/8" marine plywood will help too. Measure and precut plywood so window protection can be installed quickly when a storm strikes. Reinforce your garage doors. Keep trees and bushes well-trimmed to prevent branches from breaking off.
When the Storm Hits:
When expecting a storm or severe weather alert, these last-minute preparations could minimize the damage done to your home. Bring in any lawn furniture and décor such as bird feeders or umbrellas as well as toys and loose sports equipment. Double-check that rain gutters and windowsills are clear of debris and can shed water. Consolidate and organize supplies that may help with post-storm cleanup such as rope, tarps, crowbars, shovels, loppers and pruners. Vehicles should be parked in the garage.
Grab the emergency kit, pets and loved ones as you take shelter in a basement or an interior room without windows, like a closet or bathroom. Bring a mattress into the room for extra protection from any debris. Stay as far away from windows and exterior doors as possible. Monitor weather reports via radio, television, or cell phone. Stay inside until the storm is definitely over; don't be fooled by the "eye" of the hurricane. Evacuate if the home is damaged or as instructed by emergency personnel.
After the Storm Passes:
While the preparations have surely mitigated some damage, once the storm has passed, homeowners will need to document any property damage. Photograph the damage from multiple angles, and do not throw away any damaged property until an insurance adjuster has reviewed the claim. If the home is severely damaged, safely remove any personal property and valuables to prevent further loss. Seek alternative lodging if your home is no longer safe. Keep a record of all expenses because many insurance policies reimburse for storage costs and additional living expenses like hotel stays and transportation.
To prevent further damage to the property, the homeowner should arrange for temporary repairs; keep all receipts from contracted professionals. Homeowners should be cautious when selecting contractors. Always insist on written estimates before work is completed. Never sign an estimate before the adjustor has reviewed it. Do not pay the full amount for contract work upfront.
File the claim quickly to meet claiming deadlines and receive timely compensation. When filing a claim, be ready with the policy and photo or video inventory to expedite the process. Claimants will be asked to list all destroyed, damaged, or missing items. Damage will be assessed by an insurance adjustor. Do not allow anyone to rush or push you into signing a settlement you are uncomfortable with. If a resolution cannot be reached, legal mediation options can be discussed with the state insurance department.
For more information hurricane preparations, visit the National Weather Service's National Hurricane Center.
Over the past twelve years, Alsup has helped thousands of customers find peace of mind through his vast knowledge of the insurance industry's ever changing products. He holds a finance degree from Troy University in Troy, Alabama. Alsup is an avid golfing enthusiast who volunteers at local charities such as St. Baldrick's Foundationand Second Harvest.
About Foundation Financial Group
Foundation Financial Group is a multibillion dollar financial services corporation. FFG offers its customers Best in Class service through its Insurance, Retirement and Mortgage Services. Named one of the fastest growing financial companies in the country by INC magazine, FFG has continued to grow its nationwide presence with over 100,000 new customers per year in 39 states. In addition to the value that Foundation Financial provides every customer, it is also dedicated to its communities and the people who live in them. Through a vast array of philanthropic endeavors the company not only provides significant monetary donations but also fosters a workforce environment that encourages all team members to personally make a difference. Foundation Financial is committed to its strong focus on customer service and community investment as it continues to grow and compete with the largest financial institutions in the world.
Foundation Financial Group reviews all public relations inquiries. For additional information, interview and image requests, contact the Foundation Financial Group Public Relations team.