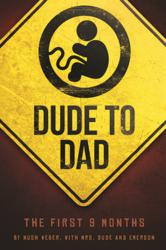 This book is meant to help usher ordinary dudes into the next chapter of their lives, better able to talk the talk, walk the walk, and be the extraordinary dad they strive to be. -Hugh Weber
Sanger, Calif. (PRWEB) May 28, 2013
Everyday guys will discover a genuine perspective and practical guide to excelling in the fresh, new world of parenting in the book Dude to Dad (Familius, May 2013) by Hugh Weber. Dude to Dad provides first time dads and the new daddy-to-be with real-life perspective, encouragement and humor as they face the inevitable realization that their carefree "dude" days are over, and the days of fathering a living, breathing human being have begun.
In Dude to Dad, Weber confronts the initial feelings of fear and self-doubt experienced by first-time dads with irreverent anecdotes and candid instruction on how to confidently take on the role of parenting. While the avalanche of dirty diapers, late night crying spells, and spousal demands may seem like an uphill battle, Dude to Dad lays out the secrets to parenting success, including the following instructions:

Identify your allies
Be aware of the curveball
Know your limits
Be fully present
Raise a child of possibility
"This book is meant to help usher ordinary dudes into the next chapter of their lives, better able to talk the talk, walk the walk, and be the extraordinary dad they strive to be," says author Hugh Weber.
Providing funny, frank and to-the-point strategies for effectively raising a child, Dude to Dad is much more than your typical medical or parenting guide book; it serves as every dude's valuable resource for balancing the demands of parenthood, marriage, and personal sanity.
About the Author: Hugh Weber, "The Dude," is an everyday guy helping other everyday guys survive the challenging transition to fatherhood. Dude to Dad spawned from the online community of dads, which has grown to over 85,000 strong, with Hugh currently the #1 most "prominent dad" followed on Twitter. Weber's message is accessible and genuine, without any medical advice or scientific backing. His professional expertise encompasses the fields of advertising, social media, and marketing. He has been quoted and referenced by publications, including Washington Post, Chicago Tribune and Glamour Magazine. Ford Motors has also designated him a "heavy hitter" in the social media arena. Weber studied at Swarthmore College and earned his master's degree from George Washington University. Hugh and his wife, Amy, reside in Sioux Falls, SD with their daughter, Emerson.
About the Publisher: Familius is a transmedia publisher who publishes for marriage, parenting, family fun, education, health and wellness, and children. The Familius mission is to help families be happy. We connect families with the books, e-books, videos, articles, and apps they need to build successful marriages and families. Let's Talk Family.
Book Details:
Title: Dude to Dad
Author: Hugh Weber
Publisher: Familius
Publication: May 2013, $14.95
Internet Marketing, ISBN 978-1-938301-26-1
5 x 8 trade paperback, Kindle, Nook, Kobo, IPad, ePub, 160 pages, illustrations, index