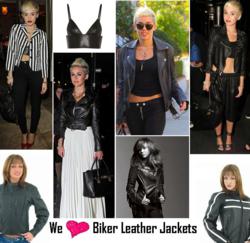 Everything Luscious, Fabulous & Glamorous.
(PRWEB) May 28, 2013
Lush Fab Glam world is the number one source for women and men to get the stylish looks. Ranging from beauty essentials all the way to dream destinations only at Lush Fab Glam.
Going from basic to casual chic is an easy transformation, with the help of Lush Fab Glam (Luscious, Fabulous & Glamorous) and eBikerLeather. Take a jean and t-shirt look from basic to casual chick just by adding a crop neck leather jacket with zippers. Glam events are all about who looks better, and with a biker leather jacket and long pleated skirt anyone can overtake the glamorous look or an event.
Planning a night out with the girls, but clueless on what to wear? Make a fashion statement by wearing a mini dress with a biker leather jacket.
Trendy looks don't go out of style in the fashion world. Keeping trendy during the summer is a hassle, but rocking that new favorite leather top is easy. Wearing a leather bra top, vest or bustier under a blazer helps in achieving the trendy summer look.
The edgy look is leather leggings and leather crop top, paired off with a biker leather jacket. Remember to add bright red lipstick and pair of high heels. Add that soft and fun element to the edgy style with a leather jacket with studs, braid, and fringe at the arms or side.
In the 2013 fashion season, the jeans, shirts, and denim trend are being worn by celebrities like Rihanna; this leather jean biker jacket will make the perfect addition to Rihanna's wardrobe. The all leather blue jean jacket is afford-ably priced for the fashion budget.