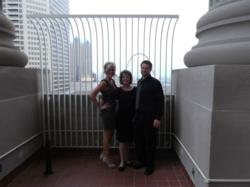 Ever since my mom's diagnosis she's felt like she has no say, like her power has been stripped. Once I found NAMI, I knew this was right up my ally. My mission was to let her know that she is still empowered and still has a right to her own decisions
St. Louis, MO (PRWEB) May 24, 2013
Boost Software and PC Health Boost are proud to sponsor Angela Goggins in her walk to support NAMI in the fight against the stigma that surrounds mental illness. Angela Goggins has been a long-time supporter of The National Association of Mental Illness. The NAMIWalk takes place on Saturday, May 25th at Forest Park, in the upper Muny parking lot in St. Louis' Forest Park.
Angela walks for her mother and to help give this cause a voice. "It is a fun event with some terrific people." Goggins said. "I enjoy the good people who are walking on my team and I'm looking forward to making many new friends along the way, but the most important issue at hand is that I will never stop fighting this stigma or for a better quality of life for my mother."
She goes on to explain that, "Ever since my mom's diagnosis she's felt like she has no say, like her power has been stripped. Once I found NAMI, I knew this was right up my ally. My mission was to let her know that she is still empowered and still has a right to her own decisions."
"It's hard for my mother to come out like this because just this year was she able to accept the fact that she has this diagnosis. It's been quite a journey; I've been trying to journal it. My situation is unusual since most of the people I meet are parents that are taking care of their children, but I am a caretaker for my parent." Angela reports that her mother is doing well today--they are just trying to get her to that next level.
"So many people don't want to talk about it. I want her to know that there is nothing wrong with this. That she can handle this and she's not a child that can't make decisions for herself."
"My hope for today is that people will stop looking at those with mental illness like they have two heads when they hear the words 'bipolar' or 'schizophrenia'. It's not somebody's choice."
Her efforts got a little "boost" from a Boston, Massachusetts based software company. Boost Software Inc. recently made a donation to Angela's team in support of the NAMIWalk St. Louis. Boost Software Inc. products include PC Health Boost, software application designed to help clean and maintain Windows based computers. The company is encouraging others to support NAMI as well.
The purpose of the walk is to fight the stigma that surrounds mental illness and to help pay for the education, classes, support groups, and advocacy that the Association is involved in. This year's goal for the walk is $200,000.
NAMI St. Louis was able to help over 9,000 people last year, not just in the city, but in St. Charles, Jefferson, Franklin, Lincoln and Warren counties. NAMI members hope that as the organization continues to grow, the stigma surrounding mental illness will shrink. They also are relying on funds raised to assist even more people struggling with the effects of the illness.
NAMIWalk encourages team participation, with each team having a captain and setting a financial goal. One such team in this year's NAMIWalk St. Louis is the Faith Hope team of which Angela Goggins is a team member.
If you would like to support NAMIWalks St. Louis, you can donate to Angela's team by visiting:
https://securewalks.nami.org/registrant/mobile/mobileDonate.aspx?eid=100505&langpref=en-CA&SPID=11292230
Friends, family, and the community in general are also welcome to attend the event and encourage these walkers and their cause. Registration is at 8:00am with the walk getting underway at 9:00am.
This year is the 11th anniversary for NAMIWalks. NAMIWalks is the largest and most successful mental health awareness and fundraising event in America.