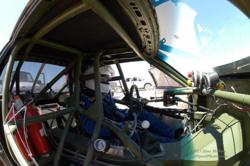 Morgan Hill, CA (PRWEB) May 24, 2013
Bill Guzenski, video personality at Andy's Auto Sport, just brushed with 200mph this past weekend at El Mirage, California. Guzenski is an avid racer and enjoys just about any form of motorsport – as long as it's got four wheels and an engine he'll drive it. Land speed racing, where one aims to attain the highest top speed possible on natural terrain, is what gets his blood boiling the most. Perhaps the Bonneville Salt Flat race – an event close to his heart - is the most popular example of LSR, but his most recent achievements were had at a dry lake bed in Southern California.
El Mirage, a small town north of Rancho Cucamonga, was the location where Guzenski had hauled his own racing car out to test but fate intervened when mechanical gremlins prevented him from running. His charitable nature has earned him many friends along the way and while he never anticipated getting the opportunity to drive a another's car, it seemed meant to be.
Guzenski's good friend, Craig Black, was running his B-class, gas-altered Mustang that weekend. However, Black's obligations to the racing club intervened and his annual patrol duty came first, thereby opening up the seat. Guzenski was offered this opportunity and he gladly accepted it, suiting up and getting behind the wheel of this potent machine in little time.
The car was a 1991 Ford Mustang fitted with a Ford small-block 427 shakedown motor making roughly 425 whp. The next time this car sees the track, a fully-built engine capable of 800 horsepower will power it. Guzenski took car# 649 and started off into the distance. On his third and final run, he reached 180 mph and was awarded a B-license - enabling him to run in the third-fastest class there. The drivers were divided into 5 classes – D, C, B, A and AA – listed in order of increasing speed. Group D is designated for those who run 125-150 mph, C run 150-175, and so on, until they exceed 225 mph, when they would run in the AA category.
When Black returns next month, he predicts a run in excess of 220 mph and an A-license, hopefully. Later this year, Black expects this car to run 260-270 mph at Bonneville, a location which holds a special place for both Black and Guzenski. The Bonneville Salt Flats are a historic, picturesque venue that attracts thousands to drive their cars as quickly as possible. The 300, 400, 500 and 600 mph land speed records were broken here, and next year marks its 100th anniversary, assuming it continues to be used. The Bonneville salt flats are under threat from a thinning surface, which once was 4 feet thick at the center, and is now only inches thick due to mining companies harvesting underlying pot ash and selling the collected salt instead of returning it.
Savethesalt.org, an organization established in recent years, aims to mitigate the damages caused by mining. Their proceeds go towards replenishing millions of tons of salt lost and their cause has been picked up with major corporate sponsorship from names including Lucas Oil Products, Barrett-Jackson, House of Kolor and SEMA. With such household names funding the regeneration process, Bonneville is slowly getting back to the pristine shape it once had, but it needs more help.
For more information, visit AndysAutoSport.com, AndysAutoSportTV.com or YouTube.com/AndysAutoSportTV.
Andy's Auto Sport is an online retailer and wholesaler of OEM and aftermarket automotive parts and accessories, and is the largest retailer of aftermarket body kits in the world, with more than 2 million unique online visitors per month. The company serves customers worldwide and has been featured in magazines such as Import Tuner, Modified, Low Rider, Truckin', as well as on television shows such as Pimp My Ride, Street Fury, Trucks!, and Two Guys Garage.