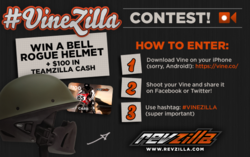 We always get a kick out of the uniqueness of our customers and their awesome personalities! What better way to incentivize the ZLA Army to share their creativity than by giving away one of the most polarizing helmets we've seen all year?
Philadelphia, PA (PRWEB) May 29, 2013
RevZilla, an online motorcycle accessories and apparel retailer, is giving away the new Bell Rogue helmet as part of a contest prize package which also includes $100 in TeamZilla cash, redeemable for a variety of products offered through RevZilla's online store. The contest giveaway deadline is Saturday June 1 and the lucky winner will be announced live on RevZilla's June 12th ZLA webcast.
Known for their use of high-energy video content, RevZilla is engaging fans to share their own creativity and passion for riding as part of their latest contest. Fans can enter by using the Vine video app for the iPhone to shoot their own original six-second video and share it via social media networks Facebook and Twitter with the hashtag #VINEZILLA.
Motorcycling enthusiasts who opt for a post-apocalyptic aesthetic will jump at the chance to enter the contest for a shot at owning one of these eye-catching, open-face helmet juggernauts.
Described as "a bandana on steroids," by RevZilla's Anthony Bucci, the Bell Rogue helmet's innovative design offers more coverage than a typical half-helmet while incorporating elements of an open-face design suitable for riding in warm or cold weather. The helmet's most striking feature is an adjustable, removable muzzle which locks securely to cover the rider's mouth and nose. Not only does the comfortable muzzle protect riders from exhaust fumes, bugs, and road dirt, it also cuts an imposing figure from the seat of any motorcycle, recalling the popular Batman villain, Bane.
Available in four colors (matte army green, matte black, gloss black, and a matte gunmetal green shade called "gunny"), the Bell Rogue Helmet retails for $249.95 on RevZilla.com and appeals to riders of all kinds -- from Harley-Davidson aficionados to naked riders to hard-core sport riders with a flair for the dramatic.
More information about how to enter RevZilla's latest contest, prize package information, rules and restrictions can be found on the website: http://www.revzilla.com/vinezilla.
About RevZilla:
RevZilla Motorsports, LLC is an online destination for motorcycle helmets, apparel, parts and accessories. Known for their content, video, and rider-centric expertise, RevZilla is one of the fastest growing resources for motorcyclists worldwide.