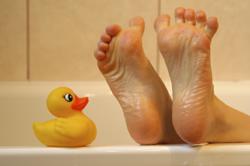 A two-minute reduction in shower time can save 700 gallons per month.
Waco, Texas (PRWEB) May 29, 2013
According to the U.S. Environmental Protection Agency (EPA), the average American family of four uses 400 gallons of water every day. Saving water, and money on water bills, can be an easy project for the whole family. Kids can help inspect the home for leaky faucets, constantly running toilets and other easily observable issues.
They can also help conserve water with the following tips:
1. Take shorter showers. A two-minute reduction in shower time can save 700 gallons per month.
2. Turn off the water when brushing teeth.
3. Put a bottle or pitcher of water in the fridge for cold drinking water instead of running the tap to let the water grow cold.
4. Use a broom to clean driveways instead of a garden hose.
5. Don't flush anything down the toilet other than toilet paper, including facial tissue, which does not break apart the same way toilet paper does.
6. Make sure your toilet isn't leaking. Test it with the kids by placing a drop of food coloring in the toilet tank. If the color shows up in the bowl without flushing, you have a leak!
7. Wash cars with a bucket and sponge instead of a hose. A hose can waste 6 gallons per minute if left running, but a bucket and sponge only uses a few gallons.
Getting the whole family involved in freshwater conservation will save money on your utility bills and increase awareness of water issues. For more information about ways to conserve water, visit http://www.EPA.gov.