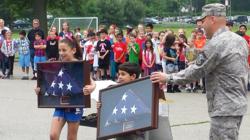 Evesham, NJ (PRWEB) May 24, 2013
Hundreds of students, faculty, and staff at the Florence V. Evans Elementary School in Marlton, NJ showed their immense support and appreciation for our returning veterans and their families this Memorial Day by holding a special "Jeans for Troops" event at the school to support the GI Go Fund.
Principal Nick DiBlasi, along with GI Go Fund Executive Director Jack Fanous, Evesham Mayor Randy Brown and Assemblyman Christopher J. Brown joined the school's over 500 students during the school function to recognize the tremendous sacrifices made by our military every day. The event also featured veterans of current and former conflicts, including Air Force SMSgt. Vincent Lommen, who were thanked by the students and staff for all that they have done for our country.
"The community at Florence V. Evans School, the students, Principal Nick DiBlasi, and the entire township of Evesham paid the most patriotic and fitting tribute for Memorial Day that I have ever seen," said Jack Fanous. "I am so proud to have been a part of it, and I am honored to be from the township of Evesham, one of the most patriotic townships in the country. These kids today learned a valuable lesson: the best way to pay tribute to those who made the ultimate sacrifice is by honoring the veterans who come home. I thank their teachers, their principal, and most importantly their parents for preparing them for a lifetime of supporting our troops."
The event was to celebrate "Jeans for Troops" Day, which is a nationwide fundraising movement benefiting the GI Go Fund. The drive gives employees at schools, companies, and government agencies the opportunity to wear jeans to work after making a $5 contribution to the GI Go Fund to help further their mission of providing veterans with help finding employment and educational opportunities, homelessness assistance, and connections to critical benefits. Funds raised during this drive will also go to benefit the thousands of veterans who were affected by the devastation caused by Hurricane Sandy.
The drive had over 1,000 employers participating, including over 950 schools. This success was due in large part to the support of the New Jersey Education Association (NJEA), who contributed to the drive and had over 370 of its own schools and school districts participating as well.
"NJEA is proud to sponsor the GI Go Fund's Jeans for Troops program," said NJEA President Barbara Keshishian. "Our members, many of whom are veterans themselves, are committed to supporting our troops as a way of thanking them for their service."
"School employees wearing jeans for troops also provides a teachable moment so that New Jersey students understand the tremendous sacrifice made by those in military service," added NJEA Vice President Wendell Steinhauer.
The GI Go Fund is an organization on the cutting edge of offering support to veterans, providing them with innovative ways of finding employment, securing their educational and health benefits, as well as providing aid and assistance to low income and homeless veterans. They have worked with Mayor Cory Booker to turn Newark into a Model City for assisting Veterans, implementing a Smarter Government approach that involves delivering hands-on services that have changed the lives of thousands of veterans.
The school's support for our military veterans this Memorial Day will not only help the veterans of today with their needs, but will also educate their students about the sacrifice our military makes every day that will help future generations of veterans get the support they deserve. The Florence V. Evans Elementary School is one of hundreds of schools in the state and across the country that is making a meaningful difference in the lives of veterans, both now and for years to come, and their support this Memorial Day will not be forgotten.